9 Reasons Why Low-Code/No-Code Platform Is the Best Choice for Increasing Adoption of Virtual Assistants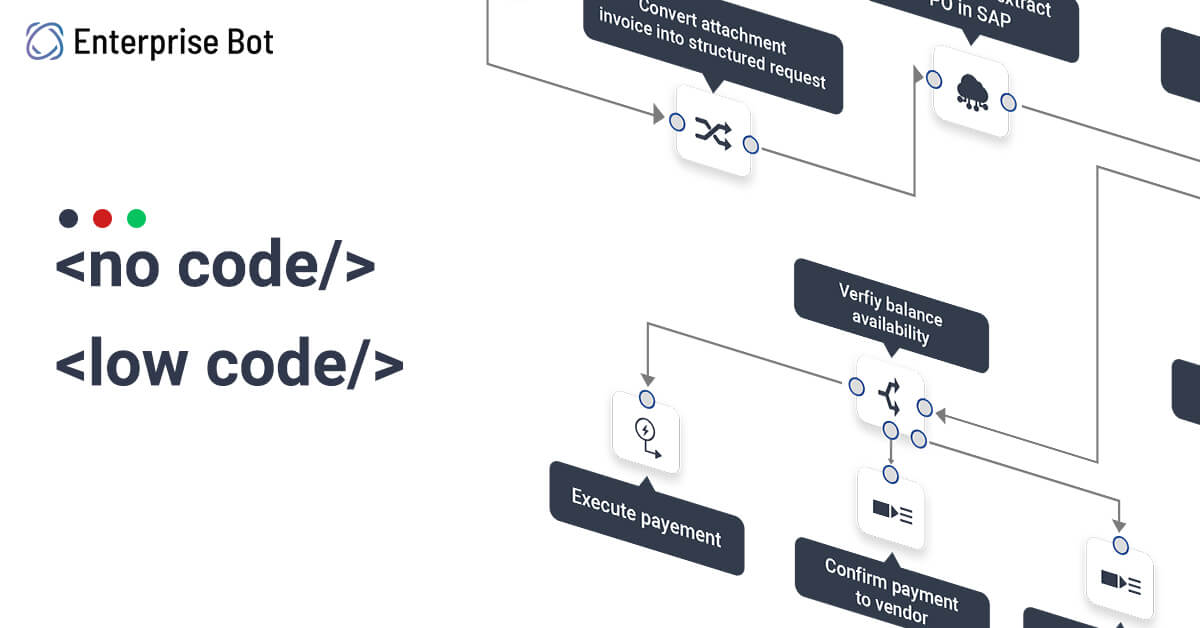 Low-Code/No-Code platforms comprises a slew of solutions that are harnessed to build complete applications via a visual drag-and-drop interface instead of cumbersomely writing thousands of lines containing complicated codes.
With low-code platform features, IT can easily work with users from enterprises to construct modern business apps in a short amount of time. The innovation makes it easy and convenient for professionals with limited experience to construct web and mobile applications.
Because of this, low-code app development is gaining plenty of ground.
In fact, the Low-Code/No-Code development platform market is expected to hit $86.92 billion by 2027, according to data from PR Newswire. Contributing to this growth is the increasing adoption of virtual assistants.
At the onslaught of COVID-19, face-to-face interactions were put to a halt. Plenty of us have turned to technology to maintain connections with family, friends, loved ones and even essential services. The VA has become integral during the pandemic, emerging as an emergency response system and supplying users with a channel to attain and sustain these connections.
As experts in the tech industry, we have witnessed the benefits of low-code platforms firsthand.
We also know why low-code and no-code options are the most suitable options for incorporating virtual assistants into your operations.
Below, we discuss why you should get excited and start looking through the top Low-Code/No-Code platform if you want to safely integrate VAs into your smart-age enterprise.
Why use a low code platform?
1. It reduces IT costs and complexities
Low-code platform features effectively eliminate the strain of conventional IT development. Instead of developing a platform across multiple applications, you can create your app while tightening security and regulating governance through a single system.
By relying on top low-code platforms and reducing dependency on hard-to-hire technical professionals, an organization's agility is greatly improved and their digital innovation and transformation are highly accelerated.
Since platforms are built in a lesser duration, companies can expect decreased expenses as well as an escape route from legacy debt. It can also skip hiring expensive full-stack developers. Instead, they can count on their own IT team to get the job done for them as quickly as possible.
Despite a slew of advantages, reduced costs and complexities are the main contributions of low-code platform features to organizations who want to create their own apps.
2.
It's flexible enough to accommodate the demands of various industries
Low-code platform features are not only simple and easy to grasp. They're also very versatile, making them extremely useful to almost any organization that wishes to incorporate a VA into their operations, regardless of the industry they're in.
For instance, here at Enterprise Bot, we've worked with payment services providers, insurance companies and even a passenger railway operator. The bots we've built with our low-code platform features have made a significant impact for these organizations, working alongside them as they expand operationally and geographically.
To see what our low-code platform can do for you, view our work with our clients here.
3.
It accelerates transition from traditional methods
The benefits of a low-code platform greatly revolve on speed. For instance, building a bot for email only takes a couple of steps, and this already includes syncing historical emails from your CRM platform or your Microsoft Outlook.
Once you upload your email with their labels, your low-code platform AI should be able to construct the machine learning structure and connect to Outlook via exchange web services. When you've already accomplished this, your email assistant should already be ready to accommodate correspondences. You can enhance your bot to boost precision and automation later on.
4.
Top low-code platforms address the broad developer skills gap
There is no surprise that complex technology is now being distilled into simpler structures to bridge the awning between development and operations. Techrepublic expects approximately 1 million computer programming-linked jobs in the US to be left vacant, since plenty of tech establishments are now looking towards non-conventional applicants and internal modules to address these skills gaps.
With a low-code or no-code platform on your side, you don't need to be the best software developer in the field to be able to build an app for your business.
Plenty of software enterprises are taking advantage of these platforms with most of them targeting the improvement of development and IT operations. On the side of businesses, communication software can help you converse with your customers without the need to spend a lot of money or onboard elusive professionals. Because of the perceived value in the groundbreaking innovation, the low-code development platform market is expanding rapidly and continuously makes a tedious, cumbersome and difficult task a lot easier.
5.
You can oversee user access rights and audit trails
One of the benefits of a low-code platform is its ability to guarantee compliance and authority throughout multiple levels. When you develop via a low-code platform, you can monitor all the modifications you've made to your bot and recover information when necessary for regulations and control.
Moreover, top low-code platforms also allows you to control user rights and select which data can be accessed by multiple user groups according to their capabilities and demands.
6.
A Low-Code/No-Code platform easily strengthens customer support
Scalable conversational AI platforms that exist across all channels, understand multiple languages, and possess the capacity to engage with customers in a human-like manner effectively direct businesses to enhanced customer engagement and loyalty.
Because top low-code platforms are easily accessible and grasped by professionals, companies have a higher chance of achieving customer retention and gaining profit. Data from SmallBizGenius claim that by boosting customer retention to 5%, an organization can raise profits by 25% to 95%.
As customer demands continuously evolve, AI-powered bots offer smoother and more reliable experiences for patrons. They define a winning omnichannel customer experience for organizations, regardless of industry or size.
For instance, banks and finance enterprises can strengthen their support with AI-powered customer solutions. These smart solutions boost service agents, rejuvenate present avenues for customer support, enable round-the-clock customer care and satisfaction, and overall, produce exceptional entrepreneurial value.
7.
It works well with data
Another reason why the low-code development platform market is expanding is its relevant role when working with information.
An enterprise is only as good as its data. Some low-code platform features allow users to externally identify their system-wide business logic via a lone archive without the need for database and application level coding regulations.
These functions also implement these centrally constructed regulations and data restrictions across all the solution's developed platforms even if they're deployed on various systems. The design of these low-code platform features eradicates app and database lock-in and extremely enhances the integrity of information while cutting down the time and effort necessary to maintain the application.
8.
Developments from top Low-Code/No-Code Platform yield significant changes
One of the biggest benefits of low-code platforms is the significant impact it can give to companies who develop their VAs through the solution.
Let's circle back to our clients and discuss a concrete example of how top low-code platforms can change your business.
Generali France acquires a huge volume of emails addressed to various departments. To sort them manually would be cumbersome and costly, so we helped develop a solution that automatically classifies these messages and forwards them to the correct department.
With an AI that can examine email content and the sentiment analysis of correspondence, our work cut down the need for the insurer's manual email routing by more than 75% and saved over 2,000 hours of time spent for customer support.
This shows that enlisting the help of top low-code platforms for incorporating VAs can truly result in significant change for your enterprise. The development of these VAs through these solutions is no different from constructing them with code. Sometimes, the outcomes can even be a lot better.
9.
Empowers your employees
Low-code platform features equip your IT staff with capabilities that can swiftly construct and deliver platforms for your business.
Compared to conventional app building, low-code platforms largely reduce hand-coding in various languages, make the most out of reuse, minimize risks, and ultimately eradicate the need to scout for and hire elusive and expensive full-stack developers. With low-code platform features, you're sure to witness increased IT output from your team, thanks to the presence of improved development solutions.
Proving it right
Now that you know the answers to why use low-code platform, we hope that you can prove these points right by enlisting the assistance of a low-code solution when implementing a VA in your operations.
If you're curious about improving customer satisfaction through commendable customer service and if you're interested in enhancing efficiency across your communication channels especially during this pandemic, feel free to give Enterprise Bot a try.
Enterprise Bot has successfully produced top-notch secure and scalable VA solutions that power digital transformation for premier organizations across multiple industries. Complex applications that usher change to the way businesses communicate have been produced through the platform, and we're more than eager to see how we can revolutionize your operations.