6 Chatbot mistakes impacting your bottom line: What to avoid?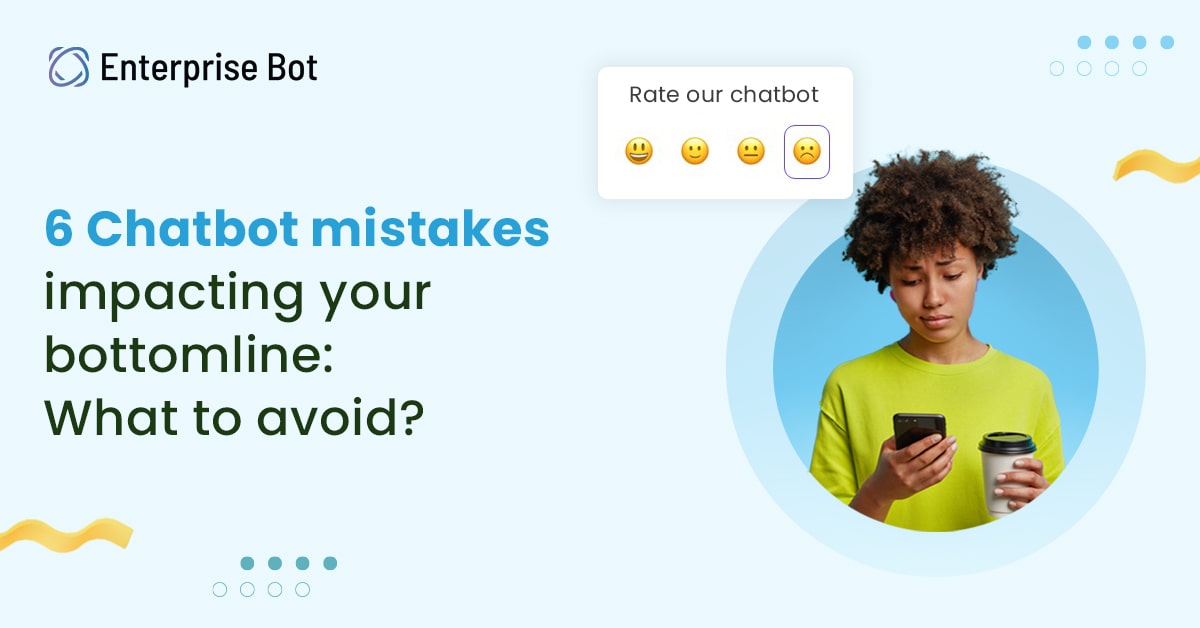 If you have ever communicated with "Alexa… " or "Siri… ", you'll realize that people are currently very much used to speaking with machines through natural human language. AI-powered chatbots are supported by similar innovation as voice interface frameworks like Siri, however, rather than reacting to spoken orders, AI-powered chatbots collaborate with clients through a chat interface, for example, Facebook Messenger or WhatsApp.
In the same way as other AI-driven advancements, chatbots have turned into a key innovation. They can build connections with users at many levels and promote self-service. Today, organizations of all shapes and sizes are utilizing chatbots to communicate with their clients, drive deals, tackle client issues, etc. Indeed, chatbots are being utilized across various business functions – client assistance, deals, advertising, technical support, HR. Yet, noteworthy as the innovation can be, there are a few pitfalls and roadblocks your business should know about.
As organizations see massive potential in this automation, it is critical not to get carried away with it. It is as yet an advancing innovation and necessitates steady observation to be carried out effectively. Here we will examine significant safety measures to take prior to going all out with chatbots so you can use them appropriately.
Imagine, you've at last done it. You went all in and introduced a chatbot for your business. You're invigorated in light of the fact that, at last, you will receive the stunning rewards of having this astute low-code, no-code solution. Congrats! Be that as it may, pause… before you get too invigorated, how about we backtrack a bit. We should ensure that your chatbot will meet the defined goals and one approach to do that is by staying away from the common blunders organizations often commit. We're not saying that you're now committing these errors yet looking at this rundown beneath can assist you with inspecting if your chatbot methodology is on the right track.
In this article, we will take a gander at probably the most widely recognized chatbot mistakes that organizations make while employing virtual assistants.
6 chatbot mistakes every organization should avoid
#Mistake 1: Your chatbot sounds robotic
Your chatbot sounds too automated. Just in light of the fact that your chatbot is, indeed, a robot doesn't imply that it needs to seem like one. Indeed, even, all things considered, no one truly needs to converse with a cold and mechanical person. That is the reason your chatbot must sound like an informed human agent instead of simply a machine. How would you do that? An extraordinary exercise is to name your chatbot and make a persona that mirrors your image's voice and qualities. You can demonstrate your chatbot's character depending on who your ideal client support specialist is. Your chatbot ought not to be excessively intense or scholarly so you will not exhaust your client.
#Mistake 2: Lack of strategy and insight
Do you have a proper strategy in place of what you are expecting of the chatbot?
Likewise, with any innovation trending, there should be an essential justification behind acquainting the new innovation with your business. Just merely embracing new technology without strategizing will do no good to your brand. Rather it tends to be expensive and counter-useful.
So, let's first draft what can be the possible business strategies behind adopting a bot.
Maximize traffic and revenue to your site?
Slash operational costs in customer service?
Personalize all communications?
Deliver omnichannel assistance to your customers 24/7?
Boost user retention and CSAT?
Improve your CX?
Simultaneously, prepare a strategy backed up by facts that clearly define the way to meet customer expectations.
Also, be sure of the metrics you would like to achieve, identify the right target audience and plan accordingly.
#Mistake 3: Your chatbot's messages are too lengthy
Let's face the hard reality. One of the key reasons numerous clients turn to live chat assistance is that they don't have the time to go through the high volume of texts your chatbot shows up. This means that customers don't simply have an interest in going through chatbot monologues.
Keep your chatbot's messages short and accurate. But how to figure out which is a long response or which will disappoint users? If the message is taking up more than 33% of the chat window, then, at that point, it's excessively long. To cut short lengthy responses, first narrow down their inquiry so that you can craft solution-driven responses with a high degree of accuracy.
#Mistake 4: Your Chatbot doesn't show accurate responses
Your chatbot isn't furnishing clients the right response. Not all chatbots are made equivalent. A few bots are more natural than others so they can spot catchphrases and answer depending on that. There are chatbots that can be really disappointing in light of the fact that they continue to answer without understanding the user query. The way to take care of this issue is to test, test, and test; and better train chatbots. You need to deplete every single imaginable inquiry and request that you may get and ensure that you have a satisfactory reaction prepared.
On the off chance that your chatbot doesn't have this ability and can just answer a couple still up in the air questions, give the client one more alternative to discover what they are searching for. You can either divert them to a FAQ page or a superior way is to interface them with a human rep and guarantee to hit them up straightaway.
#Mistake 5: You are not using it for personalized promotions
You're not using the virtual assistant to market your products. Chatbots are not only there to meet your customer service needs. They can be thoughtfully used for conversational marketing to boost your sales. Take advantage of your chatbot to promote your products, better engage users and build relationships with your potential customers. However, you have to strike a good balance between being proactive without being too pushy.
#Mistake 6: You are not providing an exit option
Chatbots can turn out badly. It tends to be irritating if the client is trapped in the communication chain with no way to get out of it. Eventually, the potential client may leave the bot, uninstall and never attempt it again. To save your brand image consistently, give an exit option like a way to the application, agent redirect, or FAQ segment as an option in the bot.
No doubt, chatbots are becoming a vital application for scaling up customer service operations and their adoption is growing. You can utilize them to make life simpler for your customers, by helping them in different capacities. By knowing what the normal slip-ups are, you can stay away from them altogether and develop the best chatbots in the industry.
Are you ready to scale up? Witness how Enterprise Bot's AIDA will power up your customer experience. Request a demo today!
We offer cutting-edge conversational AI solutions powered by hyper-automation to revamp customer service and sales interactions for enterprises. Our AI-powered assistants enhance digital engagement for businesses by delivering omnichannel, personalized experiences. Powered by advanced NLP and effective intent analysis, our technological solutions map the entire customer journey to send automated responses in seconds and create an exceptional customer experience (CX).