Trusted by leading global enterprises. Loved by customers.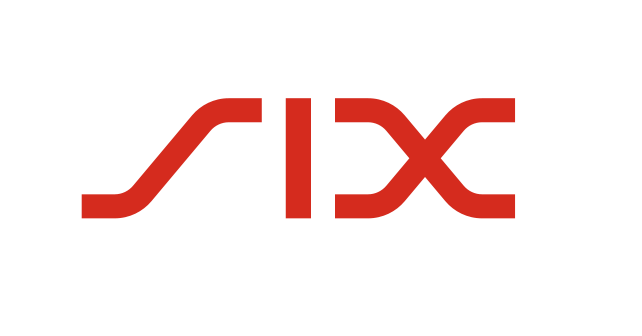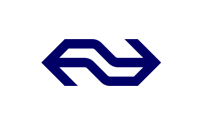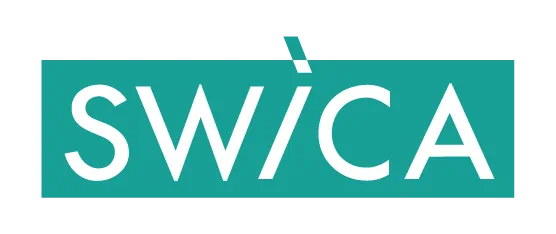 Enterprise Bot Converts ChatGPT into an Enterprise-ready Knowledge Management Guru
Challenges using ChatGPT
Risky, broad context: Accesses public internet information without accuracy verification
Not GDPR compliant: Data travels to US
Outdated information: Trained with information available up to 2021
Integration issues and lack of automation: Cannot perform transactions, like blocking a credit card
ChatGPT with Enterprise Bot
Safe & Enterprise friendly: Your enterprise-specific data with source-tracking links
GDPR compliant: Data stays in Europe
Up-to-date information: Autonomous updates with your most recent datasets
Deep integration: Seamlessly connect with existing systems for automatic request executions
Get enterprise-ready GenAI to create a Digital Co-worker for your employees
Support employees with HR requests out of the box

Employee onboarding and offboarding (eg. with SAP SuccessFactors and Workday)


Leave and time-off requests (eg. with SAP SuccessFactors and Workday)


Benefits and policy inquiries (Knowledge management eg. SharePoint or HCM Workday)


Payroll and compensation queries


Internal job postings and application assistance
& many more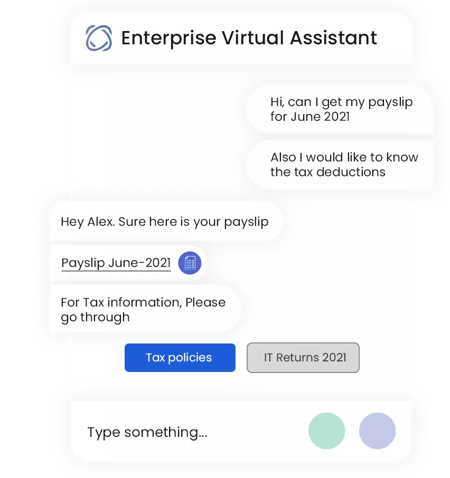 Support employees with IT requests out of the box

IT helpdesk support and ticket creation


Password reset and account management


Troubleshooting common hardware and software issues


Device and software request processing


Knowledge base search and retrieval


Remote support session scheduling
& many more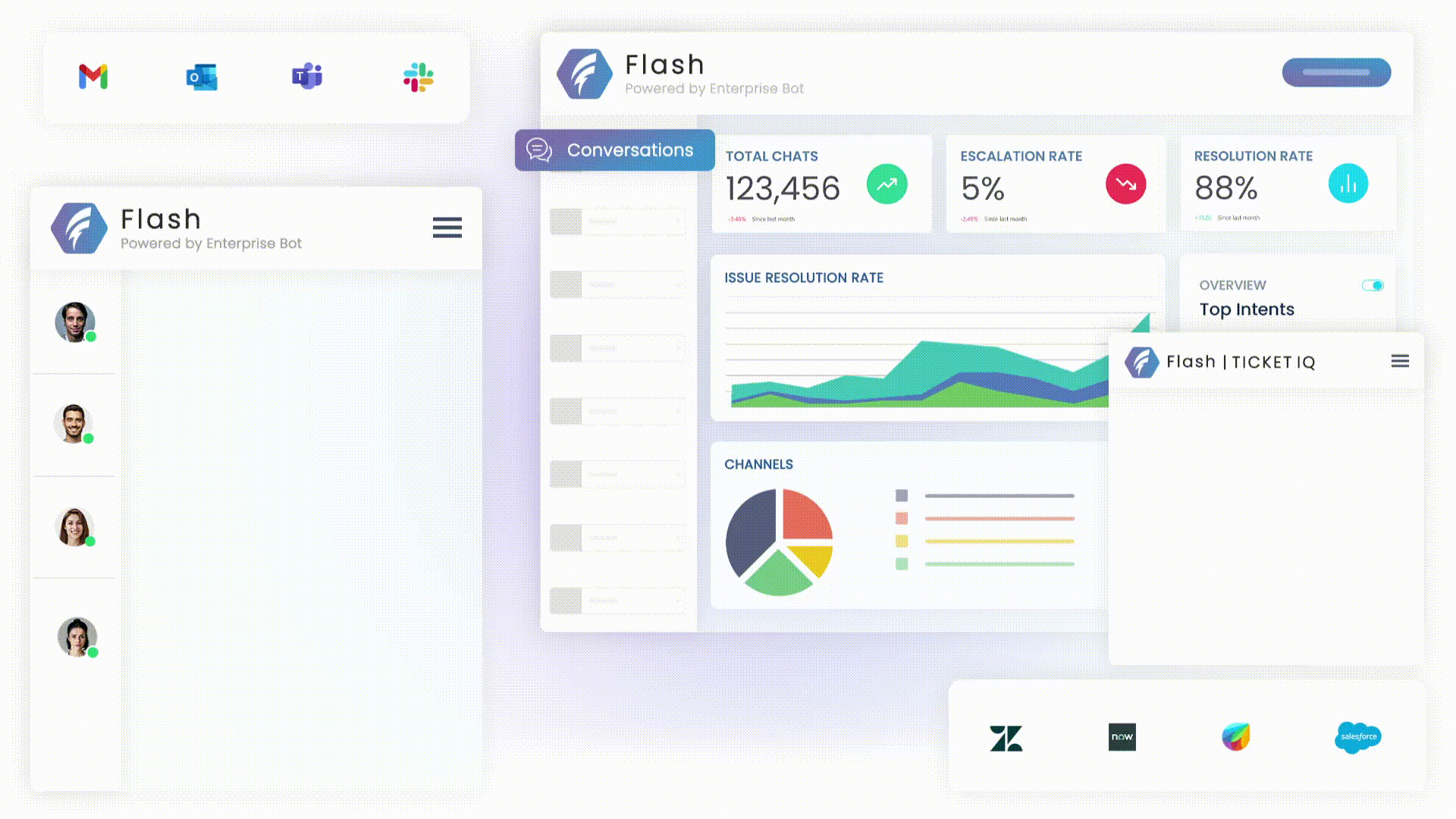 Support your team with Finance & Procurement requests out of the box

Expense report submission and tracking


Invoice inquiries and processing


Budget and financial reporting assistance


Travel and reimbursement policy information


Procurement card management and inquiries



Purchase order creation, tracking, and status updates


Vendor information and management


Contract management and inquiries


Supplier performance monitoring and evaluation


Catalog search and item information retrieval
& many more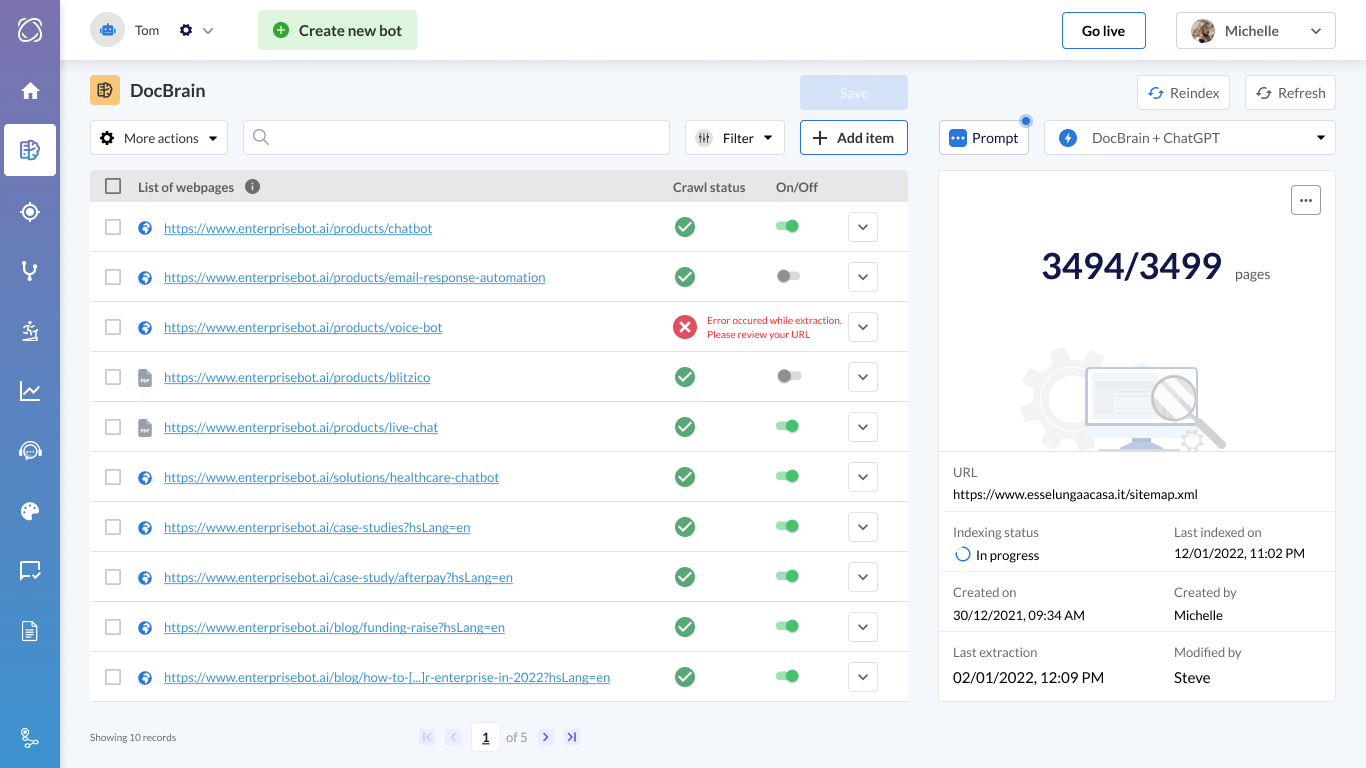 Personalized Responses to employee queries from your digital Co-worker that aggregates all your company data with AI
Our platform leverages DocBrain, our patent-pending technology, to build a knowledge base from your PDFs, Wikis, SharePoint, Confluence, TOPdesk, intranet, or website data without requiring you to create or maintain intents for knowledge management. It also automates requests by connecting with your core systems such as Salesforce, SAP and others.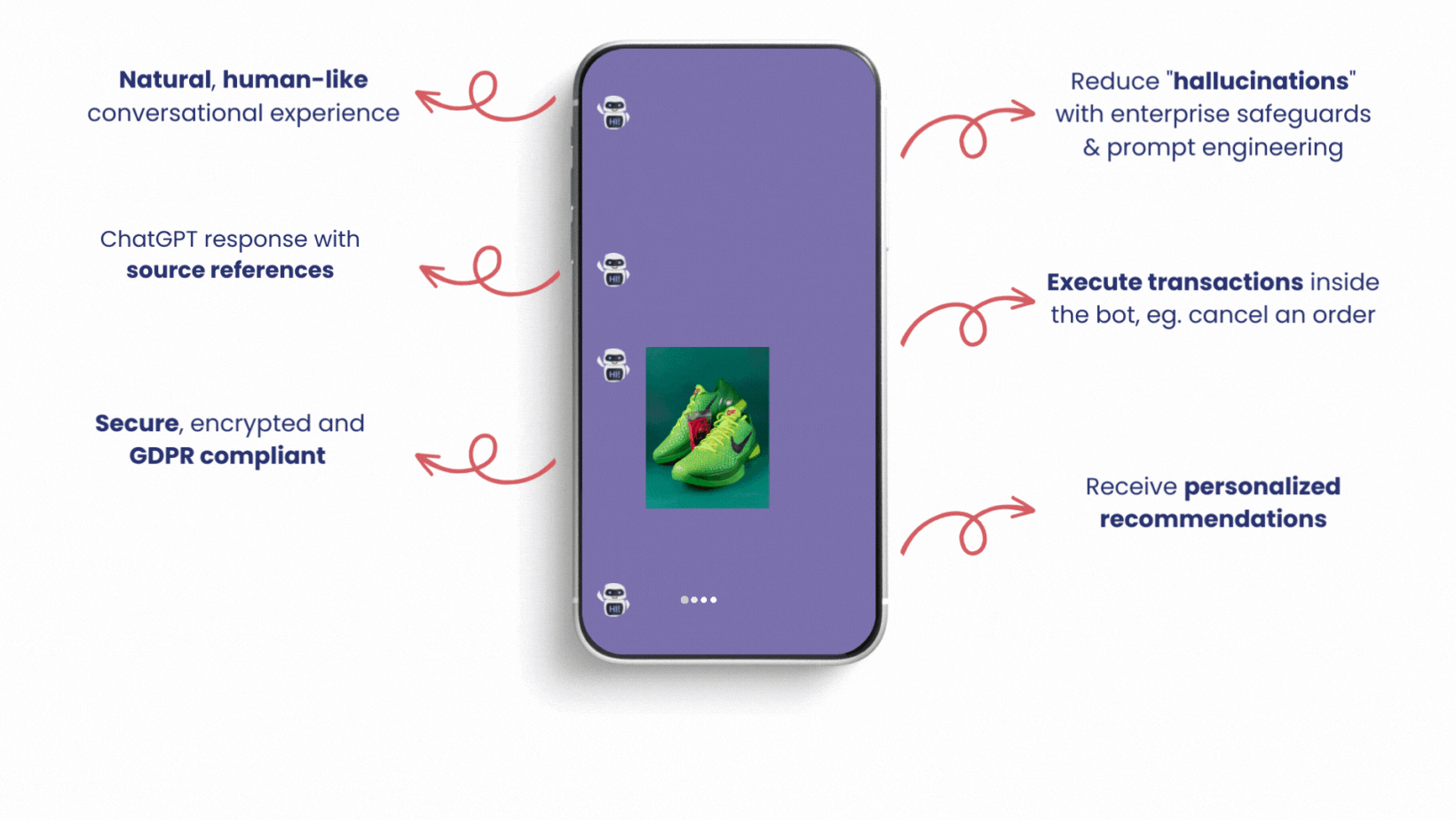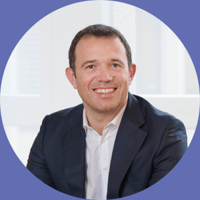 "We wanted ChatGPT for our company - yesterday. But we quickly realized its limitations and it would have needed a lot of investment and resources to make it viable. That's when Enterprise Bot stepped in and gave us an easy enterprise-ready solution that we can trust. "

Pietro Carnevale, CEO HITS (Generali)
Integrate into core systems to execute employee requests
With our proprietary Blitzico middleware, you can provide knowledge and execute complex workflows and core system connections, such as leave requests, password resets, and access requests, to your employees with just a simple request. Our system seamlessly integrates with SAP, Workday, ServiceNow, and other core technologies to fulfil these requests.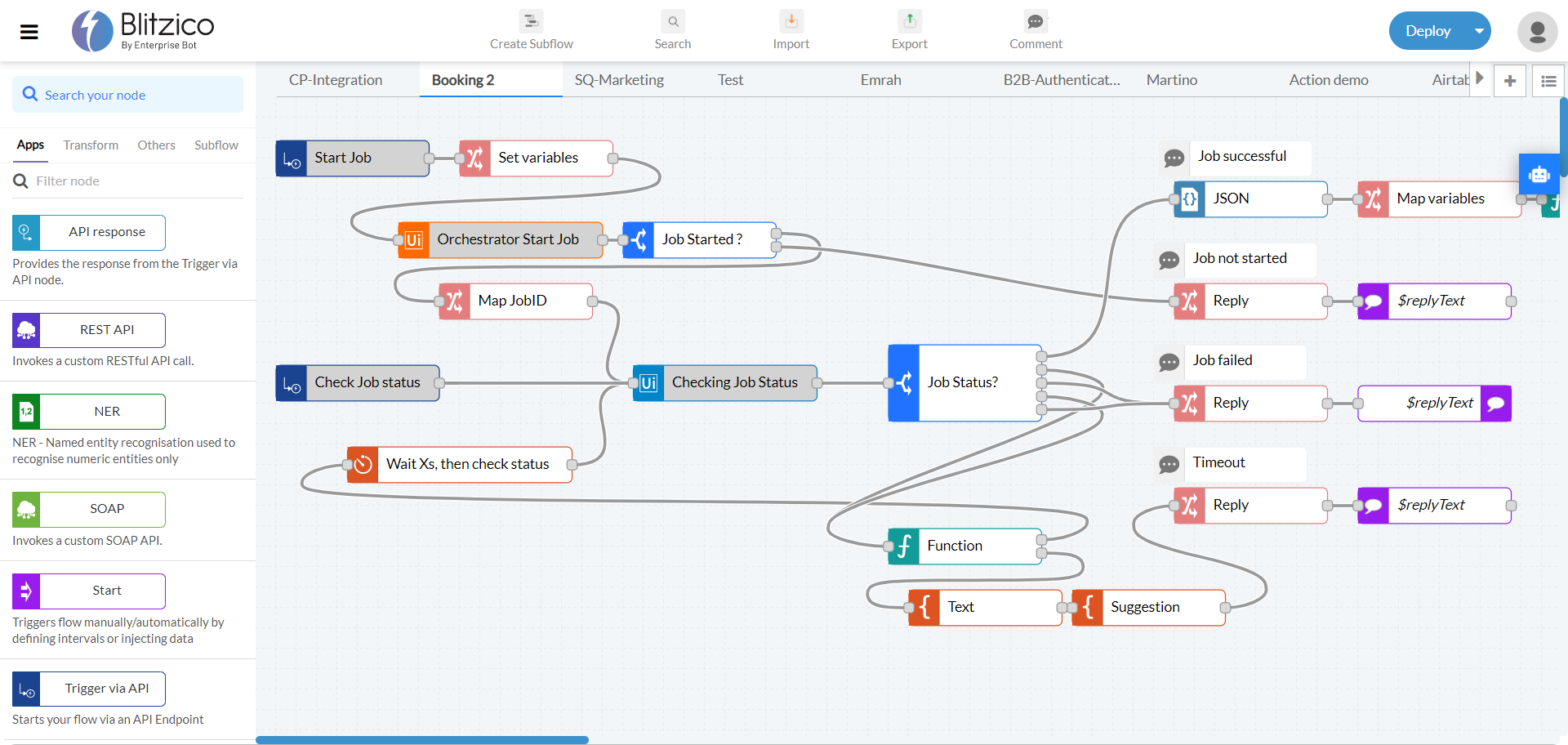 Deep Insights to help you improve your chatbot experience and automation
We offer in-depth reports to empower you with actionable insights, including conversation analytics, user behavior analysis, sentiment analysis, and performance metrics. With these data sets, you can monitor your chatbot's performance, identify areas for improvement, and optimize the user experience, all while harnessing the full potential of AI-powered automation. Additionally, our data can be connected to your preferred BI tool for comprehensive customer insights.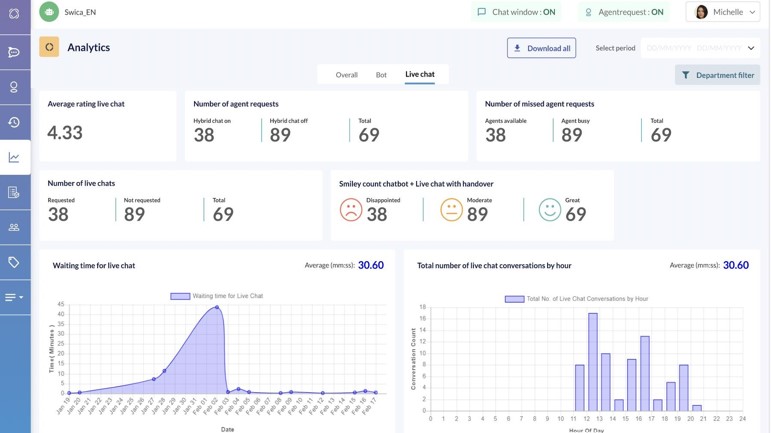 Privacy, Data Security & Hosting
Enterprise Bot tools prioritize privacy and data security. Communication is encrypted with AES 256-bit encryption in transmission and rest to keep your data secure. We have SOC2 certification and GDPR compliance, providing added reassurance that your data is secure and compliant. You can also choose between hosting on our cloud service or a complete on-premise solution for maximum data security.
Easily retrain the AI without any coding.
Our platform offers a user-friendly interface that lets you retrain the AI without any coding skills. You can adjust the AI's behavior or update it with new data without needing a programming background. Our intuitive interface allows you to modify the AI's training data, fine-tune algorithms, and adjust behavior based on customer feedback and it feeds all this information also into your dashboards.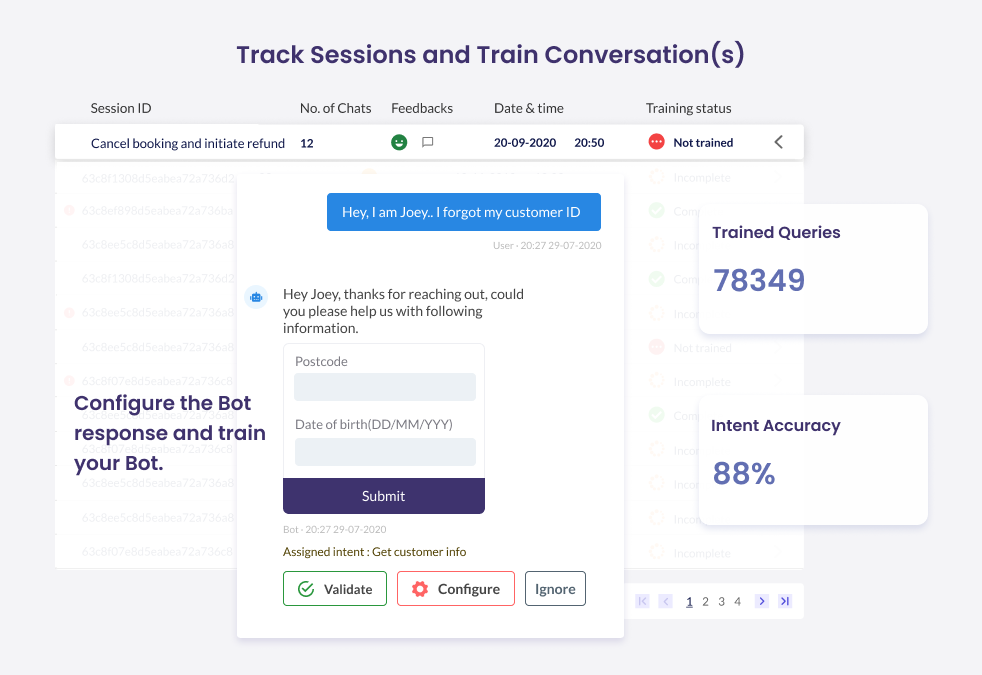 Ready Integrations to Virtually any of your Existing Systems
Leading Enterprises Trust Enterprise Bot for a Reason

1.24 times higher leads captured in SWICA with IQ, an AI-powered hybrid insurance chatbot.
'Athena' resolves 88% of all chat conversations in seconds, reducing costs by 75%.

88% accuracy achieved with out AI digital assistant. It was able to recognize over 100 FAQs.
Discover how Enterprise Bot revolutionized customer and employee support for companies like yours
Book a free demo to see how
Enterprise Bot + GenAI

can transform your user experience
Book a free demo