Cognitive Email Automation Will Help Your Agents Deliver Superior Customer Experiences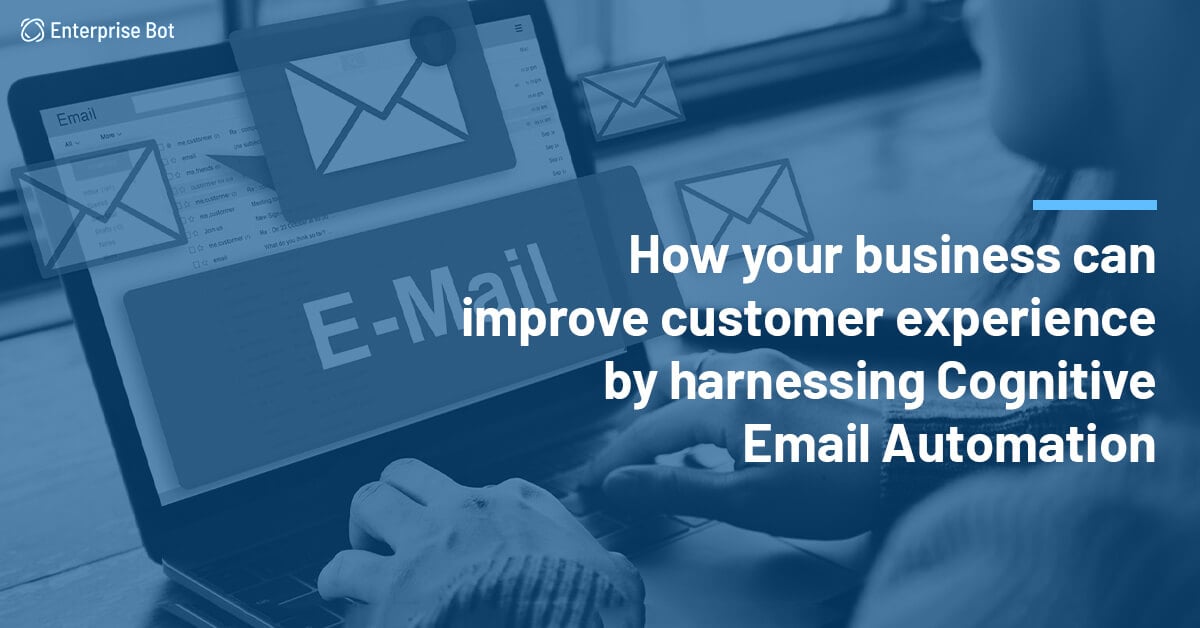 Today, cognitive technologies are playing a critical role in automating customer interactions with the application of AI, ML, natural language processing (NLP), and others. As companies are realizing the wide array of benefits in integrating cognitive technologies into their business processes, the adoption is growing on a rapid scale. We are not making anything up here. Let's look at the fact:
A recent study by IDG reports that more than 70 percent of the respondents have already implemented cognitive technologies in some part of their businesses and 63 percent have plans of deploying it.
Cognitive email automation not only ensures better outcomes from customer interactions but also enables the organization to reduce operational cost and improve productivity.
How Does Cognitive Email Automation Function?
Customer emails are unstructured data, difficult to interpret, and requiring complex decision-making. That's where cognitive automation comes into place.
Cognitive Email Automation facilitates interpretation where rule- or logic-based algorithms won't help.
It enables self-learning, the exact way a human brain is capable of. It reiterates the three steps of observation, evaluation, and decision-making.
This Cognitive Email Automation process can be harnessed to improve upon five characteristics of excellent customer experience and drive business growth.
Here's how:
1. Flexibility
Inflexible email management processes can be a bummer when exceptional customer experience is what a business is aspiring for. Customers demand personalized experience addressing their most pressing concerns adequately.
Businesses need to redesign their email-handling processes around automation to achieve any real innovation. Cognitive Email Automation bots can adapt on the fly and handle various tasks associated with responding to emails depending on the real-time changes in the workflow.
2. Speed
When responding to customers, the clock is always ticking. Businesses have just seconds to understand the customer's concerns and frame an appropriate response lest the customer gets frustrated and fall out.
Smart Cognitive Email Automation bots can enable a 90% faster email routing and increase response speeds by over 80%.
3. Scale
Triaging customer emails is a repetitive process that requires minimal creativity and insight. An organization could be receiving over a million emails a year, and in such a scenario, manually triaging customer emails becomes a mind-numbing and productivity-depleting process that could very well be automated.
A Cognitive Email Automation bot would simulate a human brain and respond with an appropriate action in case an aberration arises. A keyword-powered system that doesn't harness the power of AI would also forward emails on a large scale similarly, but in case, an unusual request drops in, it wouldn't be able to 'think' like a human and take the right action.
4. Decision making
By empowering customer support agents with relevant insights and expert guidance, AI can help them make better decisions. The staff is alerted to potential problems before they become serious, and they have insightful information at their fingertips to make the right decisions—ones that can sometimes save organizations millions of pounds.
5. Personalization
Providing customers with individually tailored brand experiences is the holy grail of customer service. With Cognitive Email Automation, such personalization can now be achieved with a previously unimaginable precision and on a vast scale.
Email Automation bots can help customer support agents anticipate customer's needs and demands and make product and service recommendations as per the customer's taste to leverage any upsell or cross-sell opportunities.
Using AI-powered bots, systems can be made capable of taking in unstructured and unclear data, understanding language, reasoning, determining the action required, and forwarding the email or naturally interacting with the customer by sending them a direct response. In this way, cognitive email automation bots work in an intelligent collaboration with humans to expand the boundaries of their cognition.
Leveraging their own analytical capabilities of reading and processing vast amounts of data, Email Automation bots take over the repetitive task of email triage and empower customer support agents to exercise their unique strengths of deep thinking and complex problem-solving.
This is our 2nd post in a four-part series on Cognitive Email Automation. To know what is Cognitive Email Automation and why your customer support team needs it, read our 1st post. Find out in our upcoming post how your business can adopt Cognitive Email Automation to enhance customer service.