Conversational Bots Will Protect User Data from Sophisticated Attacks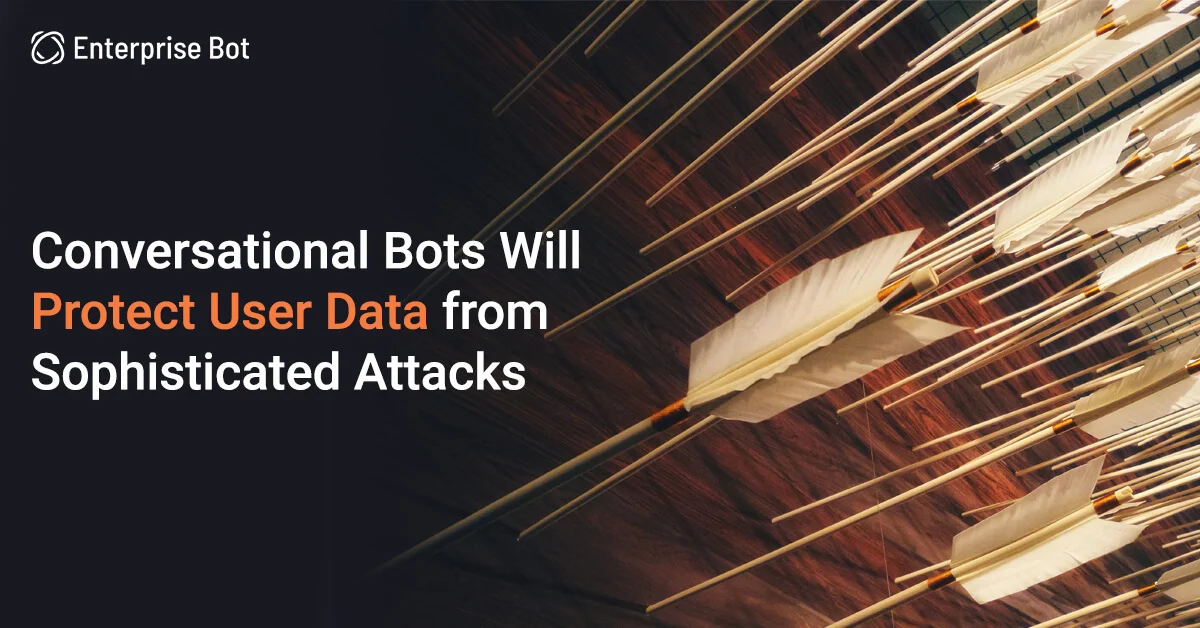 Cyberattacks are on the rise driven by the rapid digitization and 2020 global pandemic. Today's attacks are not the traditional attacks of the past; over the years they have evolved to become more sophisticated. With the massive volumes of data produced from all transactions, it is even more critical to plan for a fraud detection strategy.
13 Billion malicious emails have been blocked by Microsoft in 2019, out of which more than 1 billion were URLs set up to launch a phishing credential attack.
With legacy applications failing to identify suspicious attempts and a high number of false positives and negatives that need manual investigation, industry leaders need to deploy the right applications and tools to mitigate threats.
As chatbots rise in popularity, debates surface on its data protection capabilities. C-suites are apprehensive of adopting chatbots into their business processes due to security concerns despite the multifaceted benefits it offers. But is this just a myth or any truth exists behind this?
In this blog, we will discuss how AI-powered chatbots help agents to block suspicious attempts by raising alerts or red flags and what advanced security measures organizations should check for while selecting a chatbot provider.
4 Ways AI Bots Aid in Mitigating Fraud
Smart Intent and Behavioral Analysis
One of the principal segments of a chatbot is its capacity to use machine learning and natural language processing to identify user behavior and intent. It plays a critical role in recognizing malignant codes and flags before a human expert would even understand what they are searching for. A chatbot is customized and intended to decipher and analyze human language input to provide secure, round-the-clock, personalized, and automated support.
Automation in Data Analysis
Resources pose a huge challenge in identifying and mitigating the attacks in real-time. Reading and analyzing through millions of resources, be that images, pdfs, docs, chats, or emails, would need a big workforce and days for analysts. Such manual processes not only impact the employee productivity but also makes spotting and blocking malicious attempts difficult. AI-powered chatbots process large volumes of data in only seconds, identify suspicious attempts, and afterward have the option to inquire with agents as to whether they wish to block any particular activity.
Distinguishing progressing assaults
In the business world, there are numerous events where one's organization may have to interface with another. This could likewise apply to individuals from staff working distantly and expecting to interface with the organization's framework. In cases, for example, before an association is made, a chatbot can be used to check the auxiliary organization for any security compromises. Prior to associating, you could just ask the chatbot "Have there been any ransomware alarms in the previous 48 hours?" or even "Has this organization been undermined by vindictive conduct over the most recent 24 hours?". However, as long the chatbot is pre-modified to see such orders, it is ready to furnish you with the appropriate responses you need right away.
Versatility and Adaptability
The incredible thing about chatbots and AI is that they are intended to learn. A decent chatbot will offer adaptability, versatility, and flexibility and will have the option to proceed with its learning cycle every time there is an update. The more that you "educate" the bot, and the more information that is inputted into it, the more it will adjust to the requirements of the client. It's fundamental for the chatbot to stay cutting-edge and responsive with regards to distinguishing, and forestalling digital assaults.
Best Practices Followed in Ensuring Chatbot Data Security
With quick digitization, chatbots are acquiring a great deal of footing and it is being used across a wide scope of verticals, including health, finances, insurance, transportation etc. As clients share more private data, chatbot security has become a top concern. Organizations need to guarantee the correct security methodologies are taken to reduce the chances of data theft. Aside from standard security conventions, for example, SSL certificates, organizations ought to likewise have progressed security practices to limit the danger of data theft:
End-to-End Encryption
It is imperative to have end-to-end encryption (E2E) in chatbots to maintain the privacy of every interaction. However, data can be tampered in transit points. Along these lines, encryption can be used with 2-way confirmation.
As you may know, chatbots can likewise connect with various channels like Facebook Messenger, Telegram, and Slack. For that kind of circumstance, the ideal answer for E2E is to allow chatbots to connect with channels that help data encryption.
Article 32 (a) of the General Data Protection Regulation (GDPR) unequivocally requires that businesses take measures to pseudonymize and encode every singular data. Luckily, in light of rules like GDPR, more businesses are zeroing in on data encryption and are along these lines giving chatbots more channels to relate inside a protected way.
User Authentication
User authentication is another system followed across ventures to approve the identity of the user. Chatbots use two essential safety measures, user verification, and authorization, prior to providing entry to a portal or service. There are not many extra verification measures organizations can use to guarantee better security:
Two-Factor Approval: Users should affirm their identity by means of two distinct channels. Despite the fact that it appears 'old school', much of the time, particularly for banking and monetary organizations, it has demonstrated to be the best mass of guard.
Validation Timeouts: This procedure is generally used by banking chatbots. A novel token is created and it must be utilized inside a particular time window which is pre-set. When the timeout happens the framework needs to create another one. With this strategy organizations will have the option to hinder rehashed endeavors by programmers to steal users' information.
Biometric Authentication: A high-level and vigorous procedure to verify client personality with finger impression checks. This has been ascending in notoriety.
With the right safety practices, an AI chatbot is an ensured application that will improve the client experience, help associations to diminish costs and present a critical chance to robotize high-volume customer inquiries. At Enterprise Bot, we offer enterprise-grade, multilayer security to conversational bots that will shield client information from complex assaults.