Empowering your IT service management with IT Helpdesk chatbots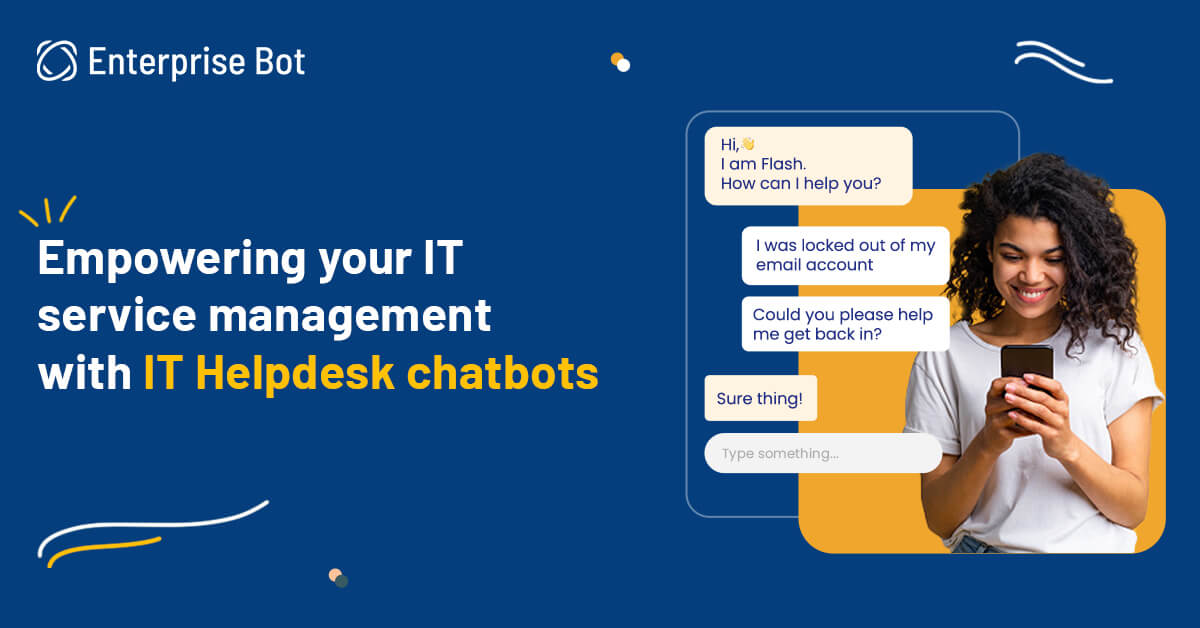 In today's digital-first era, organizations have been experiencing the pressure of accomplishing more with less, for example, ensuring higher productivity & ROI with minimal expenditure. On top of it, today it is incomprehensible for a business to stay relevant and grow without utilizing innovation. In response, more and more enterprises are embracing cutting-edge technologies like AI, NLP, ML and RPA to stay ahead of their peers and create exceptional CX for their customers. One such promising technology to transform your IT service management is none other than IT helpdesk chatbots.
But what about your help desk agents? Couldn't they, too, benefit from AI-powered virtual assistants? The truth of the matter is that the IT help desk has become an essential segment of business operations. With expanding pressure on cutting down expenses and a growing interest to drive proficiency, be that as it may, IT professionals have been struggling to deliver real-time quality services to users.
With no say, AI-powered virtual assistants can reform how the help desk is run, changing low-value, manual workflow into a smoothed out, self-driving activity with intelligent automation.
What are the challenges in traditional ITSM?
30% to 50% of all Level 1 help desk support functions are repetitive in nature. Not exclusively are these tasks tedious and dull, however they are additionally very expensive from an organizational standpoint.
Paying talented IT resources to perform relentless basic work all day, rather than every day, isn't only a misuse of cash. It's a misuse of ability. Furthermore, when the work isn't significant, the risk of downsizing or employee churn additionally goes up.
In the interim, from an end-user point of view, raising help desk tickets and waiting for responses obstruct efficiency. Along these lines, not exclusively are IT specialists stalled by the high influx of redundant queries, however, the entire workforce gets affected.
Repetitive tasks
Do your service desk requests contain a high volume of queries related to onboarding, password resets, access provisioning, outage etc.? This is one of the major roadblocks ITSM professionals experience in improving their performance as they need to dedicate most of their time into completing repetitive tasks. The lack of an integrated automation solution impacts the growth and productivity of IT agents and other departments.
Delayed Responses
Delayed Responses and stretched wait times are prime reasons for user dissatisfaction and poor work efficiency. Despite the fact that 70-80% of the service requests represent the top 20% of the normal IT issues, the support team struggles to resolve employee inquiries in a timely manner due to lack of right applications and processes in place.
Lack of an integrated system
Longer wait times are mostly results of endless volume of calls that the support agents need to respond to. However, without the right assistance and an integrated solution, they invest more energy on filtering through calls while jumping between various applications than resolving the issue and discovering an answer. Furthermore, the whole framework appears to be unhinged as it lacks a dedicated process.
Tracking User Assets
Most of the IT help desk requests usually deal with products, or assets, or services. IT professionals manually or through disparate systems accumulate information about the equipment and then instruct users how to fix it. This is a major drawback as there is no option to track the information in real-time through an integrated solution. As a result, IT professionals need to indulge into manual searches every time a request is raised, for troubleshooting. Had there been an approach to track the information, analyze, and guide customers with an automation engine, the response time could have been minimized drastically.
Time-consuming & costly training sessions for new hires
Whereas tracking down the right resources appears to be an overwhelming job, training and upskilling them is even more challenging and often not properly followed in most organizations. First of all, it is manual and furthermore, it is redundant. Leaders invest a great deal of energy in training new hires rather than resolving user issues, or potentially settling them.
Key Benefits of IT helpdesk chatbots in IT service management
Cut down ticket volumes
With a conversational AI solution, most of the issues would be settled without the need of an IT service agent through self-service portals or troubleshooting. This brings down the number of tickets requesting agent assistance, thereby improving the productivity of IT support agents by letting them focus on high-value tasks.
Boost employee productivity
With AI-fueled interactions, ITSM experts presently have the simplicity to zero in on high-value tasks. For example, with AI virtual assistants organizations can resolve level 1 ITSM requests with the self-help option. As you take out the L1 ticket volumes from the agent plate, they get ample opportunity to dedicate their attention to addressing critical customer concerns.
Enhance the response time
AI-powered IT helpdesk chatbots have the potential to take your ticket resolution capability to the next level. It solves the fundamental issues from the core which cuts down the ticket resolution time. It screens through the past interactions to find faster resolution whenever any new request comes up.
Accelerate Your IT Service Delivery with

Flash,

Enterprise Bot's AI Virtual assistant
Actionable Insights & Reporting
AI-powered ITSM virtual assistants analyze service requests and provide real-time reports to enhance the operational efficiency of the IT help desk. From capturing historical data to performing pattern analysis, to identifying the real issue – it streamlines all for an organization.
Complex Query Resolution
Conversational AI has the potential to resolve issues, regardless of what it is. Implying that if the bot is unequipped for fixing the user issue, the request is then sent for agent assist. IT helpdesk chatbots ensure that all details are recorded, categorized, and afterward steered to the right expert.
Something imperative to take note of is that ITSM chatbots don't altogether supplant human agents and are restricted to only addressing Tier I issues. In circumstances when the bots are unequipped for giving answers, the same is forwarded to support specialists.
Here once more, IT helpdesk chatbots smooth out the interaction by categorizing the ticket and relegating it to the right agent. Utilizing the advanced AI analytics chatbots assist with ticket segmentation. This ensures that the ticket is relegated to the right specialist, who is trained enough to successfully resolve the issue.
Incident management
Perhaps the most useful use case of IT helpdesk chatbots is incident management. With time, the quantity of tickets is just expanding. With limited support agents, processing these user requests becomes tedious, which hurts employee experience. This is the place where AI Chatbots come to play.
With ITSM virtual assistants, you can process any number of user requests without agent assistance. AI-powered chatbots work as a virtual human advisor directing users towards the resolution. From sharing self-help documents to helping them through troubleshooting, AI chatbots deliver a holistic personalized experience to all users without losing the human touch.
Knowledge management
Keyword search and analysis is not a viable application for responding to users with accuracy. With intelligent automation in service desk operations, organizations can respond to user enquiries with 90%+ accuracy. It doesn't only rely on keywords but performs detailed contextual and sentiment analysis to understand the underlying user sentiment and shoot accurate responses.
With conversational AI, you can auto-respond to user emails with the best solutions to their issues. You can even identify the loopholes in your knowledge database. AI-driven knowledge management not only streamlines interactions with end users, but it simplifies jobs of IT support agents.
With Enterprise Bot's IT Helpdesk chatbot Flash, you can access unlimited volumes of data from knowledge databases and identify common user behavioral patterns to resolve problems more efficiently.