How can an AI chatbot help your business nail a great customer experience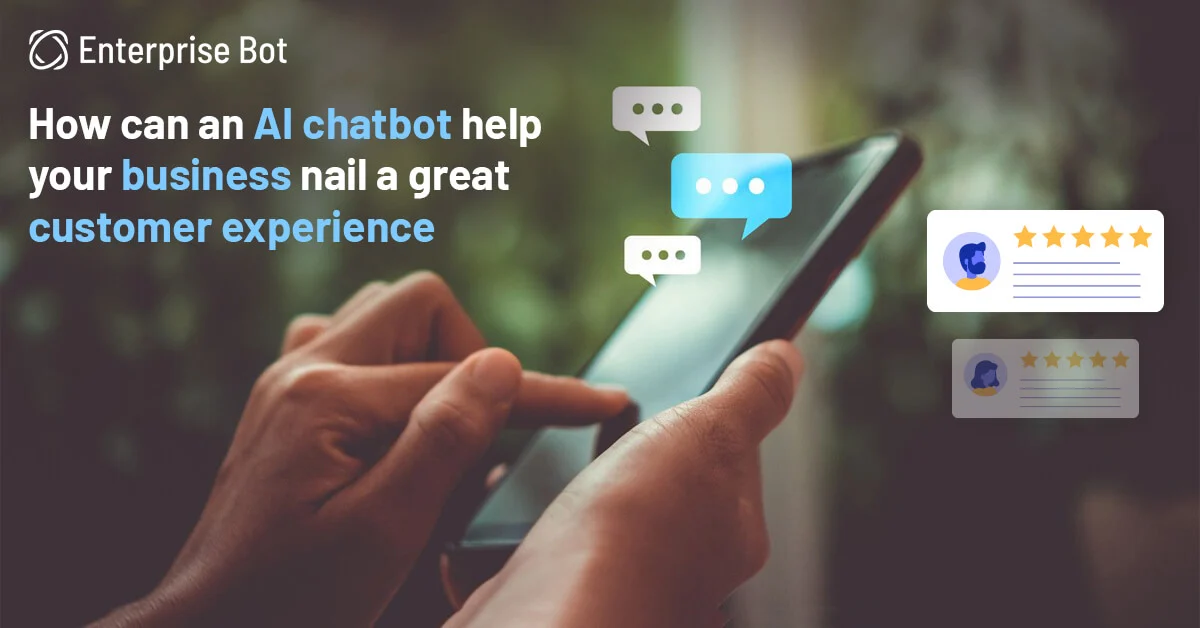 As one of the key trends in innovation, Artificial Intelligence (AI) keeps on acquiring value for contact center agents. Chatbots and voice bots have become essential tools for brands that wish to deliver a hyper-customized, exceptional customer experience.
A report on the Future of Work reveals that
39% of IT pioneers are as of now utilizing AI or ML,
33% said that they hope to utilize AI within the following three years, and
19% hope to utilize it within five years.
Great customer service hails from a place of operational efficiency and technological vigor. Lack of right technological solutions impact the efficiency and productivity of resources.
Businesses equipped with conversational AI solutions at hand can engineer exceptional customer experiences that boost customer satisfaction, create loyalty, increase customer lifetime value, and amplify advocacy.
Let's check out how AI-powered chatbots can empower your customer support teams to do exactly that without replacing the human touch, find out:
1. 24/7 availability
An AI-enabled chatbot is readily available, 24/7, to help the customer with immediate responses in real-time. Chatbots have the benefit of never tiring out and consistently performing with the same efficiency and accuracy regardless of how many times a query is raised. They keep your business connected to the customer, even when your customer support team might not be available.
An AI chatbot creates a sense of reliability, assurance, empathy, and support for the customer that goes beyond the rigid business terminology of what you call 'working hours.'
2. Multichannel, seamless support
Customers like to chat on multiple messaging apps like Facebook, Twitter, Linkedin, Whatsapp, and as such, there are numerous touchpoints that a business could have with a consumer at a singular point in time. Keeping track of the customer's journey with the business becomes very difficult for a support agent with limited bandwidth.
On the other hand, an AI chatbot can collate data from various channels and harness collaborative intelligence to keep your staff up-to-date with the customer's imprints and provide seamless support, notwithstanding the platform the customer is using for communication.
3. Instant response
Friction in customer service interactions is a common deterrent among customers, both new and old while making an online purchase.
A 'Customer Lifecycle Survey' found that around 53% of customers are likely to quit halfway through if faced with sluggish responses. 73% of respondents say that the most important thing companies should immediately latch on to provide good customer service is valuing their customers' time.
Businesses can solve this problem of lengthy and intolerable wait times and ensure a smoother journey for their customers by leveraging the intelligence of AI-powered chatbots across their websites, apps, and other online touchpoints with the customer. These AI chatbots reply instantly, reducing the wait time significantly or even eliminating it, notwithstanding the volume of customer requests dripping in.
4. Expert answers
Clients want precise, appropriate, and complete solutions to their inquiries upon the first contact — served up as effortlessly as possible — so they can return to what they were doing before the issue emerged, with little hassle. AI-powered chatbots help them provide just that by leveraging the vast amounts of collected customer data to provide the most optimal solutions.
5. Quick resolution of complex queries
AI-powered chatbots automatically store reserves of customer data while they interact with them through various channels. This data, tracing the purchase history, inquiry frequency, number and types of clicks, etc., of the customer, helps the AI chatbot draw out the customer's profile with utmost precision. It is a goldmine of invaluable customer information that can then be utilized by the service reps to solve even the most complex customer problems speedily and efficiently.
6. Reduced IVR frustration
Trying to reach customer support personnel for product information, general inquiry, or making an online purchase can be a disheartening experience for most customers. Having to explain a unique issue to a support agent over a call can often feel daunting. Apart from anxiety, it can also drive up frustration levels in case the issue doesn't get resolved in the first contact, and the customers have to repeat themselves all over again.
The Interactive Voice Response (IVR) systems that sound too structured and robotic are also dreaded by most customers who find them impersonal and even insulting. Friendly and approachable AI-powered chatbots alleviate these fears and detest by helping customers with immediate and appropriate responses.
7. Personalization with accurate customer insights
AI chatbot is capable of mining vast amounts of data from the large chat volumes pooling in from the various different conversation channels. The chatbot tracks the chats and options chosen by its users and creates unique customer profiles that detail the customer's intentions, buying behaviours, and motivation.
By leveraging accurate customer insights, an AI chatbot helps the support team make sense of the customer's requests and anticipate their needs, to provide them with relevant messaging and personalized recommendations, rather than confuse them or throw them off-track.
8. Reduced churn rate
AI chatbots employ collaborative intelligence to help your customer support team provide an ideal customer experience. In cases, where the bot singlehandedly cannot resolve a problem or the customer is unsatisfied with the bot's answer, the AI chatbot redirects the case to a support agent for analysis and response. This ensures the customer doesn't tune out and switch loyalties and also helps improve the bot's performance for the long haul.
9. Automated and secure transactions
Making online transactions more secure and automated makes the customer's purchase experience with the business smoother. AI-powered chatbots integrated with payment gateways like PayPal, etc. can make the entire payment process for the customer faster, easier, automatic, and more reliable, and increase the customer's faith in the brand.
10. Multilingual capacity
AI-driven chatbots are incredibly flexible and versatile and can understand even the most client queries in their language, with high precision. For global organizations, this is one of the most appealing benefits of AI chatbot since these can continuously adapt and learn new languages and complement a limited customer support staff that might not necessarily have the required experts or the resources to hire them.