How you can keep your employees motivated in the face of COVID-19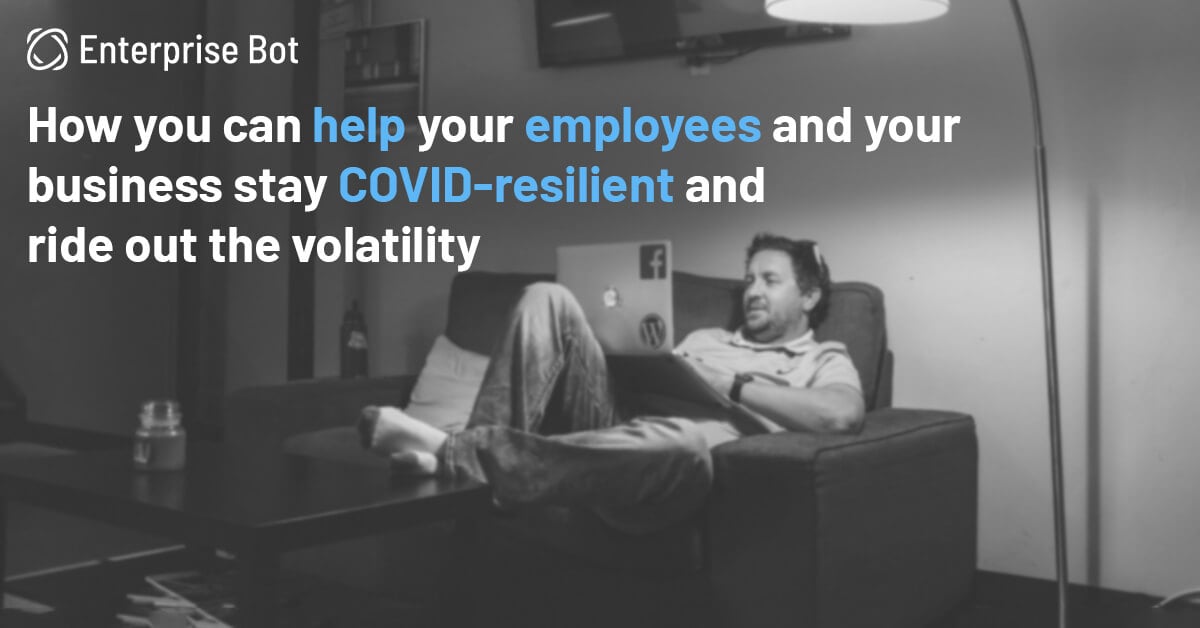 How are your employees hanging in there? Have you devised a clear plan for their wellbeing? Are you providing them with enough resources to take care of their physical, mental, emotional, and financial health? What's your strategy for their safety and security? Are you laterally focused on them as much as you are on supporting your customer's needs? Have you ever thought about all this? Did you ever think you would?
These are testing times.
The markets are collapsing. The rates of infections and deaths are far from trickling. Unemployment rates across sectors, industries, and continents are jumping percentage points. Nationwide lockdowns continue to trudge the global economy towards a slowdown. Crores have already lost their jobs. And more might just be on the verge.
Amid this volatility, billions — the fortunate ones — that continue to be employed, are now working remotely, with a novel sense of anxiety, fear, and loneliness amid isolation.
And as the lights get dimmer, it is incumbent on you, as a leader, to stay prudent and make this work — for your employees, for your customers, and for you and your business, at large.
A patchwork approach won't do. You'll need a solid and coherent coping strategy to empower your workforce and keep them healthy, happy, productive, and motivated. Because, you know, their sliding optimism directly translates into the diminishing ability of your business to deliver relevant experiences that are able to meet customers' expectations. Yes. Your brand image is entirely hinged on how well your employees are holding up right now. And what a recent Gallup poll shows is not short of alarming. Only 54 percent of employees strongly agree to feeling well-prepared to do their work, under the shadow of COVID-19.
Adopting vital, actionable organisational practices to blossom trust, compassion, stability, and hope among your employees is paramount to your customer's happiness.
So here's a brief guide that could actually help your customer support reps hold the line just a bit longer that could keep your business from getting, you know, whipsawed.
Working in the times of Corona
1. The clock is not ticking
While working from home, your employees have got a lot on their plates. They could be struggling with managing children and their schooling, helping the elderly, attending to household chores, trying to keep their neighbour sane, fighting with their spouse over privacy issues, cooking for breakfast, lunch, dinner, the in-betweens, or really just trying to keep themselves going, one day at a time.
In extreme circumstances like these, when people could be either cooped up together for days on end without a choice or stranded alone in complete isolation, any living situation could, at times, seem like a nightmare. Things could feel too overwhelming to ignore in the span of a second, and it could all get a bit too much to manage alongside work. It could, more often than not, be inexplicable, having caught your employees themselves off guard. What's worse, it could sound lurid and unreasonable when sounded off as an explanation.
Cultivating empathy as an intrinsic part of your organisation's culture and showing flexibility to match specific employee needs is critical for the exact reasons. Really, could you afford to be extremely stringent with deadlines when half of humanity is struggling to maintain a balance and hold up?
You must prod your management to have open conversations with employees about how and when targets can be accomplished — without intruding on employees' privacy. And try to offer a greater leeway for submissions, keep work hours per day to a necessary minimum to spare them time for child care or self-care, and offer leaves of absence as required.
Showing added support, solidarity, and appreciation will make your employees feel that they are heard and cared for. It will give them a sense of security, otherwise stretched thin in this troubling time, that will re-establish their rapport with you and your organisation. It can actually enable your people to kill at their jobs with enthusiasm and commitment equivalent, if not possibly equal, to the pre-pandemic normals.
2. Get e-social to keep your employees motivated in the face of COVID-19
For individuals who have never worked from home, social isolation could feel like imprisonment. What's worse, it could spell the end of their productivity.
What we realise when we start working from a quiet corner of our homes is that other than those cool systems, comforting coffee machines, and rooftop cafeteria, the office had actual people with actual faces you could interact with, rushing in and out of doors and conversations, any time, all the time. And it's kind of hard to replicate that on a 21-inch monitor screen, no matter how long you stare into a Zoom window and how desperately you look.
People are having meltdowns. Multiple times in a day. On multiple days.
And just a simple act of encouraging your teams to have virtual coffee breaks, lunches, or even happy hours together could add much-needed cheer. Who knows, raising the spirit together (but apart) at homes could actually help raise some spirits! Bringing the team together for online chess tournaments, quiz breakers, quirky polls, or just tuning into some Jazz blues can reinforce shared values of harmony, trust, respect, commitment, and integrity apart from keeping the people from actually feeling the blues.
So maybe next time you take your team on a video con-call, make sure it is to organise Jim's birthday party.
3. That Slack spiral was nobody's fault
Nobody was prepared for this.
And nobody fully can be.
Even with all the right software tools, high-def video cameras, and interactive chatting platforms. Even with all the advanced tech in the world.
Because it's not just about getting online and being able to communicate and be communicated to. It's far, far bigger than that. It's a problem, pricking at people's psyche, that needs attending.
Of course, there will be small disputes that could arise — like some conflict setting off a little email bashing, or miscommunication over Slack that snowballs into an array of unwanted phone calls. All this could also pile up unwanted stress that could interfere with work, or worse with an individual's mental health.
To train your teams for effective online collaboration and get them accustomed to this novel way of working for a significant stretch of time, as temporary as it is, you can host webinars and video calls and establish some ground rules. If you show receptiveness and hold out an ear to understand your employee's problems, your people will follow and take it on from there with their teammates.
You need to build awareness and inculcate acceptance in your teams for individual and cultural differences in communication and steer them towards alternative ways around them that can help them work together more cohesively.
4. Point them to the next session on Mindfulness
Escalating stress levels are adversely impacting mental health. Several chatbot counselling apps have got the numbers, and they are maddening.
As a leader, it's your responsibility, more than ever now, to immediately employ urgent lighthearted measures with the seriousness of a Jedi. You need to foster positive coping among your teams. For instance, just asking Emma to go for a walk could change her entire evening.
You could, by all means, get creative. Shower your employees with compiled lists of the hottest Zumba classes, healthiest breakfast hacks, 10-minute dinner recipes, unsung cinema for delicious weekend-binges, and online learning resources that can ensure true enlightenment.
The pandemic is making people lose their sleep, focus, and sanity.
But what you never quite really estimated was how big a difference sharing a little cat video could make.
PS. That's absolutely not a link to a cat crooning to 'if you're happy and you know it'. Unless it absolutely is.
PPS. You always knew we cared.