HR Process Automation Is Transforming Employee Experience with AI-Powered Chatbots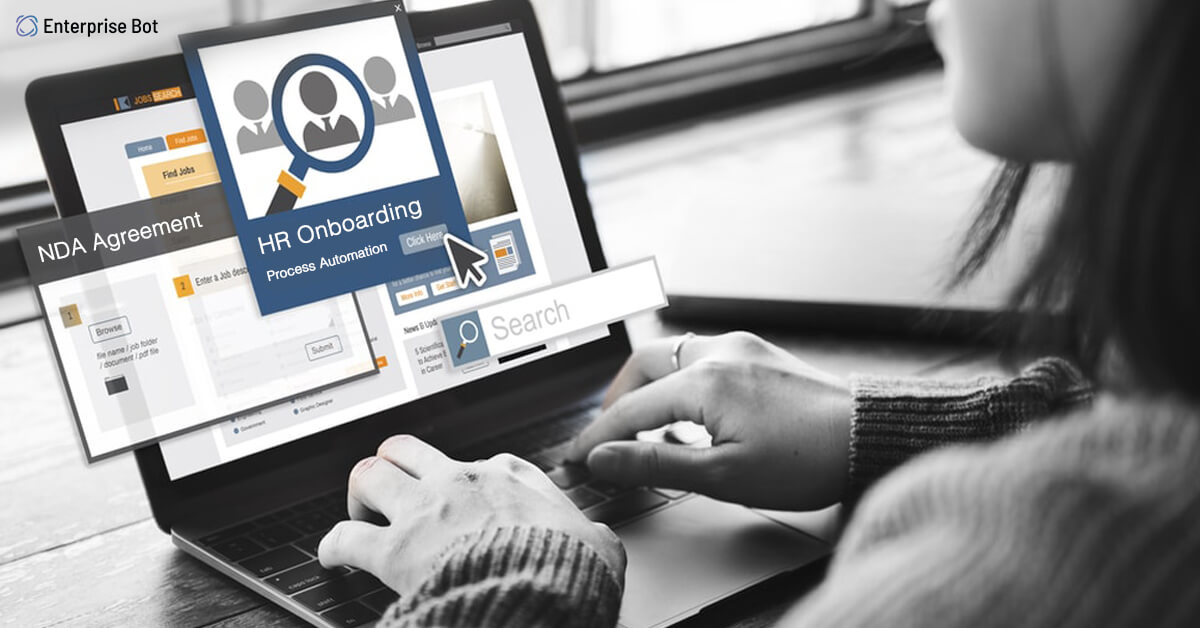 Every 2 out of 3 employees express their frustration at not being able to access or find the relevant policy information in their organization because they are not given or informed where to look up.

– Source: Gallup
An alarming fact! A study by the Work Institute further reveals that nearly 40% of new hires leave the company within a year of being hired. One of the key reasons behind this is low engagement due to lack of HR process automation during onboarding. A one-size-fits all approach doesn't work, you need AI-powered automated HR solutions to create personalized experiences.
Onboarding is critical as it creates the first impression on an employee's mind about the company. The initial days of a new joinee are packed with orientation sessions, formalities & documentation, team interactions, getting familiar with company policies, adapting himself or herself in different IT systems etc. Creating a seamless experience is extremely vital to integrate new hires properly in respective teams and cut down the ramp-up time in starting real work and boost retention.
Trying to deliver a personalized experience for every new hire is a complicated and tedious task that drains HR managers' time too much without having an HR process automation solution in place.
The conversational AI powered by natural language processing (NLP) and robotic process automation (RPA) amplifies the efficiency of HR teams by automating repetitive HR operations with accuracy and speed. AI-powered chatbots analyze the intents without any prior context to ensure multilingual communication with employees addressing their queries real-time. Empowering HR with AI not only enhances your employee experience but also saves your time and budget.
Conversational AI simplifies the HR onboarding process:
The top three challenges HR managers mostly experience in the onboarding process are
Inconsistencies across the organization,
Managing through multiple priorities simultaneously, and
Evaluating the effectiveness of the onboarding process.
Be it adjusting through tight deadlines to complete the responsibilities or enhancing the employee experience, and there is no alternative to HR process automation in creating a consistent system.
Best-in-class companies are 53% more likely to initiate pre-onboarding before the new hire joins so that the resource gets more time on introductions, training and other engagement activities.
1.
Performing Initial Onboarding Requirement
HR personnel need to perform repetitive tasks such as gathering necessary information such as KYC, signed NDA, tax declaration etc. whenever a new employee joins. It's a time-consuming job that will be providing no value. AI-powered chatbots will reduce these manual work by initiating the onboarding process and sharing all the necessary information. Chatbots capture the information submitted by employees using structured data and cut down the dependency between the HR and the onboarding employee. The HR team extracts the information from chatbot in simple steps.
Paperless onboarding brings all your operations within a single unified dashboard and you can monitor and update the task seamlessly than ever before.
Also, chatbots provide instant responses to endless queries from new hires through the conversational interface 24/7. You can even feed the chatbot with all critical materials such as graphs, charts, videos, pictures so that employees can pull up the details whenever they need.
2.
Team Introduction
Industries like retail have its workforce spread across locations. In such scenarios, having outdated processes and systems in place, onboarding can be a huge challenge. The new hire needs to get the latest updates on project progress, objectives, team, company achievements etc.
AI chatbots empower the employee by providing every minor detail such as team hierarchy, their whereabouts, and their responsibilities. The new hire gets to interact directly with the bot instead of reaching out to HR for every minor thing.
3.
Communication is the Key
Understaffing is a predominant issue in the HR department. It indirectly impacts the hired professionals as they go through extra pressure to meet the target. Also, it creates a time crunch on the professional's end, and impacts the quality of the onboarding process. Working in a hurry burry increases the possibility of erroneous information being passed on. Often, enterprises don't pay enough attention to identify the delta in their current onboarding process. Updating operations using AI-powered HR process automation will help in identifying the gaps within your system and designing a consistent process for onboarding. AI Chatbots recognize and report repetitive processes with the help of predictive analysis.
4.
Training and Learning
It's another critical part. Companies invest a significant amount for training and learning purposes of recruits. It's a standard followed across organizations to ensure new employees have gained sufficient skills to perform their responsibilities efficiently.
The traditional system used to have a database loaded with a humongous amount of information for the trainee to study and understand their work. Implementing HR chatbots will simplify this process by answering the queries of new employees instantly or dividing the training programs in modules. It can even carry out a quiz session to evaluate the learning capabilities of employees by the end of the process.
HR bot can also share performance results based on the assessment, the scope of improvement and update the team regarding the upcoming learning modules.
Talent acquisition still persists to be a major problem organizations are dealing with. With the growing adoption of artificial intelligence in HR operations, it is ever more essential formulating a coherent AI strategy to mitigate critical business issues and enable a smart, efficient system.
There is no doubt that conversational AI is revolutionizing the way in which today's HR operates. Are you ready? Share your use cases with us – day-to-day challenges, how you manage through the difficult situations – and we'll guide you with the right solution.