Intelligent Process Automation in Banking: Think Resilience. Part – 1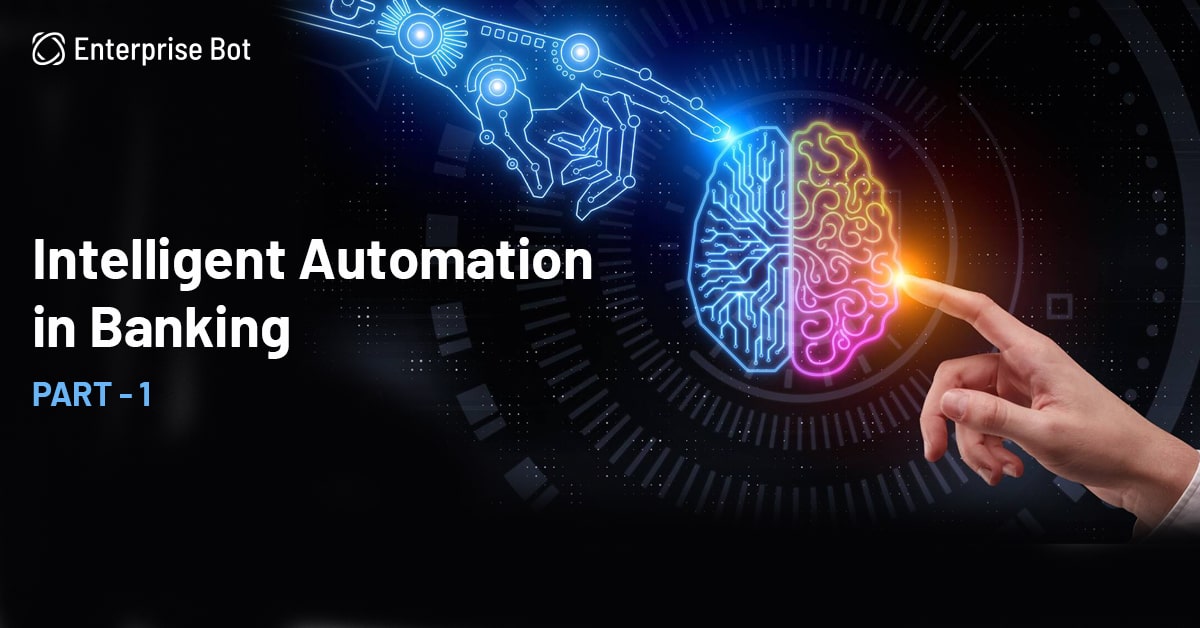 It would not be a wrong assertion to say that banks all over the world are facing the heat to ensure a profitable bottom line consistently. Increasing regulations, compliance & reporting requirements, competitive business landscape, and rapid technological advancements have pressed net revenues for banks and have impelled them to look inwards to boost operational productivity.
What makes the situation considerably more unwieldy is the point at which a few banks neglect to modernize, depending on outdated technologies and archaic systems that should be supplanted. All these factors lead to inefficient resource utilization, poor cash flow, brand reputation loss, and the failure to acquire key business insights in real-time.
Industry leaders can address these macro-level challenges by proactively incorporating the right technologies in their processes. Enterprises need to leverage intelligent banking solutions powered by next-gen technologies such as Artificial Intelligence (AI), Robotic Process Automation (RPA), Machine Learning (ML), and Natural Language Processing (NLP) to maximize productivity and improve speed & accuracy in their customer service. These technologies will help enterprises to excel and stay relevant in the competitive space. Many banks have already embraced virtual assistants to automate routine customer queries, enable smart agent assist & handover, and gain actionable insights for faster and more accurate decision-making.
In this 2 part blog series, we will mainly focus on:
Various operational challenges banking enterprises are dealing with,
How deploying virtual assistants will transform CX for banks, and
The top use cases of intelligent automation in banking that holds true value.
Let's look into the first two aspects in this first part of our blog:
The Current Challenges in Banking Customer Service & Intelligent Solutions
The banking industry is witnessing a rapid shift owing to increasing regulatory challenges and compliance norms, growing competition, fast-paced digitization, and changing business models. It's high time traditional businesses revamp the way they do business to meet today's customer expectations, strengthen security and deliver omnichannel, round-the-clock personalized experiences. Digital transformation is essential to thriving in the current landscape.
| Address Pain-points in Traditional Banking | With Enterprise Bot's BankAI, an end-to-end automation solution |
| --- | --- |
| High cost of operations & low productivity | Automate 60-80% of routine customer queries |
| Risk of non-compliant processes & procedures | Leverage AI & cognitive computing to ensure compliance across all processes |
| Antiquated business management applications causing inefficiencies | Build in a centralized solution to manage all operations from a single application |
| Lack of innovation in the front & back office | Optimize outdated processes with RPA to increase process efficiency, enable self-service |
| Cultural shift to a technology-first approach | Train your employees on how to get the maximum of digital banking |
| Siloed data, lack of valuable business insights & customer understanding | Deliver improved customer experiences throughout the journey based on intelligent insights, centralized document repository |
How Intelligent Process Automation in Banking Creates Value for Your Enterprise?
Intelligent process automation has the power to improve the bottom line of any organization. Let's check out why AI virtual assistants are key to an organization's digital transformation goals and how it can enable an agile, intelligent banking customer service that will add multifaceted values to any business.
Cut Down Costs:

Automate manual, data-intensive processes to reduce paperwork, save resource costs, and boost productivity
Ensure Compliance:

Enhance KYC/AML analysis by accessing customer data. Also keep a track of regulatory changes and transactions.
Improve Operations & Minimize Risk: Automate routine tasks to free up your support agents, improve accuracy and reduce operational risk.
Boost ROI:

Deploy BankAI in 2 weeks at an optimal cost to scale up your customer support operations, and upsell & cross-sell.
Improve customer service: Utilize AI-powered insights to personalize CX by providing right product suggestions, and speed up issue resolution.
Eliminate resource crunch:

Implement digital banking assistants to reduce call volumes and bring down the call waiting time under 1 minute.
Conclusion
When it concerns delivering banking services, the more streamlined your customer service, the more will be your chances of lead conversion & winning customer loyalty. Incorporating Intelligent process automation in banking will revamp your customer service operations at all scales. Be it speeding up your customer issue resolution, ensuring high accuracy in risk and compliance scoring, or guiding customers like a personal financial advisor – it helps you showcase state-of-the art technological experiences through exceptional service quality.
Enterprise Bot's BankAI is one of the most scalable, secure & cost-effective banking automation solutions that can make your virtual assistants up & running in 2-weeks. You don't need to hard code, just choose from the built-in templates, simply drag & drop, and you are ready to hit the market. It offers a set of distinct features that will help you deliver an intuitive user experience. From ensuring compliance, to mitigating fraudulent attacks, to processing mortgage loan requests, to providing omnichannel assistance to customer queries 24/7, it will streamline everything for you.