Intelligent Process Automation in Banking: Think Resilience. Part – 2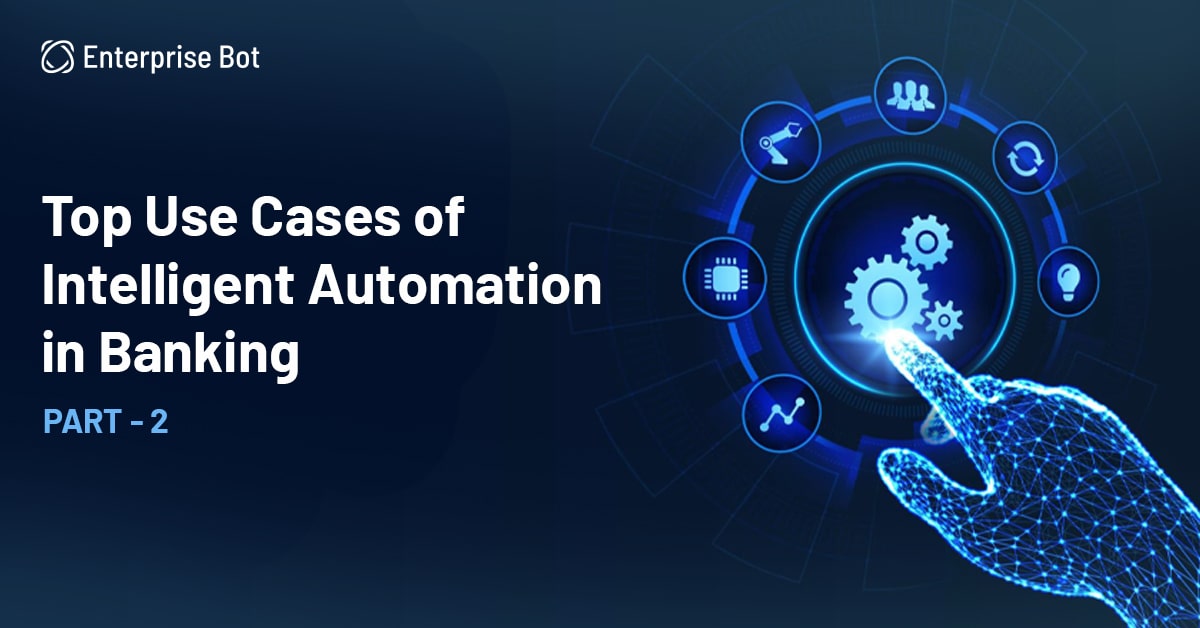 Top Use Cases of Intelligent Process Automation in Banking
In the first part of our blog series we have centered our focus on various operational challenges banking enterprises have been dealing with, how deploying virtual assistants will augment banking CX, finally the potential Enterprise Bot's BankAI holds in revamping contact center operations.
Let's now move to the various applications of intelligent process automation in banking in the 2nd part of our blog:
Streamline Your Core Banking Processes with Intelligent Process Automation
Report Generation:
Generating suspicious activity reports (SAR) is a regular requirement in banking institutions. However, reading manually through reports and updating details in the SAR form is time consuming and involves high cost.
Enterprise Bot's BankAI powered by NLP & RPA not only scans through high volumes of lengthy compliance documents in minutes but also extracts the required information for filing SAR.
Compliance & Accuracy:
Most banks still use rule-based detection systems that often raise false positive alerts. It not only wastes resource hours but also causes user dissatisfaction. At the same time, archaic systems & applications are not capable of identifying today's sophisticated attacks. AI & NLP-powered virtual assistants conduct smart behavioral analysis to cut down false positives by 20% without compromising on compliance standards.
Manual errors cause banks to lose millions of dollars every year. An AI & ML-based application like BankAI automates the process end-to-end and helps you achieve a high degree of accuracy by capturing, assessing, and sorting huge customer data elements in no time.
Customer Onboarding:
Excessive turnaround time is a major problem in customer onboarding. In addition, manual report analysis, paper-based inefficient processes, duplicated data entry, low transparency in the application process, limited communication and security and compliance make the process even slower.
RPA & AI-powered virtual assistants come into the picture here as it completes the KYC authentication and credit checks in a few simple steps. As a result, banks don't need to ask for customer details; again and again, bots can fetch it directly from the centralized repository whenever required. This makes the onboarding cycle secure, seamless and shorter.
Transaction Search & General Queries:
Bots are given access to look into user transactions. AI-powered chatbots use NLP to decode the request sent by the user, be it related to balance inquiries, monthly spending, general account information, address change requests, FAQs, or something else. The bot searches and processes the requests instantly.
Risk Evaluation & Customer Profiling
One of major tasks banks need to perform is creating right profiling of customers dependent on their risk score.
AI-powered bots segregate customer profiles based on their past records. It classifies them based on their risk profile, from low to high.This helps agents decide which items should be offered to a group of customers with higher risk scores.
Digital Financial Advisor
Transactional bots are perhaps the most well-known use cases in AI, likely on the grounds that the scope of utilizations is so expensive — across all ventures, at a few levels.
Consider them as digital financial advisors assisting clients with exploring their money plans, reserve funds, and expenditures. Such help boosts client commitment and improves the experience of the client with the product.
Natural Language Processing (NLP) plays a key role here as it helps to process data in the form of human language which speeds up the entire process.
Digital assistants can likewise be utilized for other works related to financial management: term life renewal, dividend handling etc.
Fraud Analysis with Deep learning
Enterprise will utilize deep learning for rapid risk scoring so that automation engines are better able to detect fraudulent acts. It pulls out past transaction records in milliseconds to authenticate and respond.
Mortgage Loan Processing
Mortgage loan processing has always been considered a tedious, time-consuming, error prone task. Banks need highly skilled resources to arrange, read, analyze and process thousands of mortgage applications with accuracy. At hundreds of pages each, processing these loan packets in high volumes can become exceedingly resource-intensive without an automation solution in place.
Containing many pages each, processing these applications in high volumes can turn out to be incredibly resource-intensive while not having a next-generation automation solution in place. Although many banks have digitized the process to a certain degree, AI and RPA will further speed it up, bringing down each application processing time to under 15 minutes.
Conclusion
There are plenty of use cases that testify the true potential of intelligent process automation in banking. But the key here is ultimately it all boils down to automation. So, why not upgrade your operations with an intelligent banking solution like BankAI to automate manual, error-prone, data-intensive tasks while ensuring compliance?
Wondering what should be your next steps to driving intelligent automation in banking? First, it is critical to analyze your business use cases to identify your systems and process gaps. This will help you gather the right requirements for your intelligent solution and set the right expectations that will solicit your business needs.