Unravelling the Power of AI to Improve Customer Experience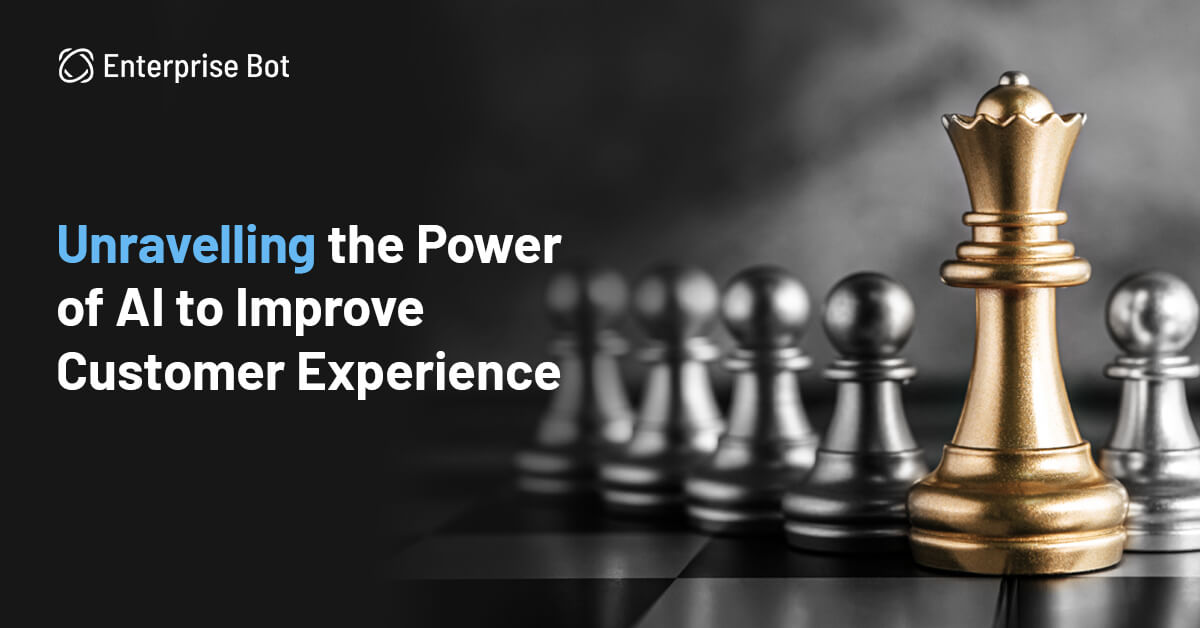 Customer dissatisfaction not only hurts the bottom line of your business but damages the organizational reputation.
Customer experience lies at the heart of every business. Just like a building can't stand without pillars, your business can't win the race without a seamless customer experience (CX). Business leaders' prime focus now has shifted more towards establishing a consistent customer experience across all touchpoints to exceed the organizational standards and customer expectations. As a plan of action, they are investing in next-gen technologies such as Artificial Intelligence (AI) to augment their customer experience efforts.
AI and Machine learning (ML) have been widely accepted by industry leaders in transforming their customer experience. A recent survey conducted by Microsoft reveals that nearly 95% of all customer interactions by 2025 will take place through channels supported by AI.
In this blog, we will discuss various applications of AI in improving CX.
Unleash the Power of AI to Bring Out Data Insights
Customer experience if driven properly creates endless opportunities for growth, but it also hits back hard when failing. Data insights are core into driving CX enhancement, but it's not that simple. Customer behavior is difficult to map, even more, challenging is deriving real-time actionable insights out of these siloed datasets. AI comes into the picture here as it identifies behavioral patterns across multitudes of data points to give you valuable business insights to boost customer satisfaction.
Resolve Customer Issues with AI-Powered Chatbots
Customers don't prefer waiting for responses, they want solutions faster and smooth. AI-powered chatbots source data at a much higher speed to resolve the issue of the customer. This not only speeds up the entire process but also saves time for employees to dedicate their attention into a more value-added task. The advanced technology of AI helps you to save a lot of cost on hiring live agents for repetitive, slow, low-value interactions. Reports say businesses receive nearly 265 Bn customer requests every year and it costs as huge as $ 1.3 trillion to take these requests to closure. Using AI-powered chatbots can help you save up to 30% of this.
Create Personalized Content With AI to Drive CX
How marketers interact with new and existing customers plays a key role in improving CX. There have been reports of personalized content increasing lead generation, customer acquisition and upselling. For example, if you visit an e-commerce platform it shows you related products to your searches that might be of interest. It is nothing but an AI algorithm playing in the back. AI-enabled tools are designed in a way to promote personalized interactions in real-time. Instead of customers searching through the website, you are showing up the products they will be interested in.
Make Your Customer Service Active 24/7
Customers prefer buying from brands with 24/7 customer support. According to a survey by Deloitte, 62% of respondents reported customer experience delivered by them acted as a major competitive differentiator in the past.
Chatbots provide 24/7 support to all the common queries and increase the level of customer satisfaction. You can add general FAQs and answers and customize your bot to make your customer support more advanced and engage with them at a closer level.
Initiate Co-Pilot with AI to Provide Assistance to Agents
It is tedious and time consuming for live agents to study the history of a customer with your brand. AI gathers information in real-time updating the agent on the background of the customer, his preferences and the key issue he is looking for a solution to. It also suggests potential solutions to his issue. It's a great assistance to agents as they can dedicate their time in resolving the issue.
Artificial intelligence has set its foot at almost every sphere of business and the adoption is growing year by year. If you don't want to lose to your competitors, develop plans on how you can leverage AI to take your customer service to the next level. As Bob Hooey rightly said, "If you're not taking care of your customers, your competitors will."