5 Ways Email Virtual Assistants Elevate Customer Shopping Experience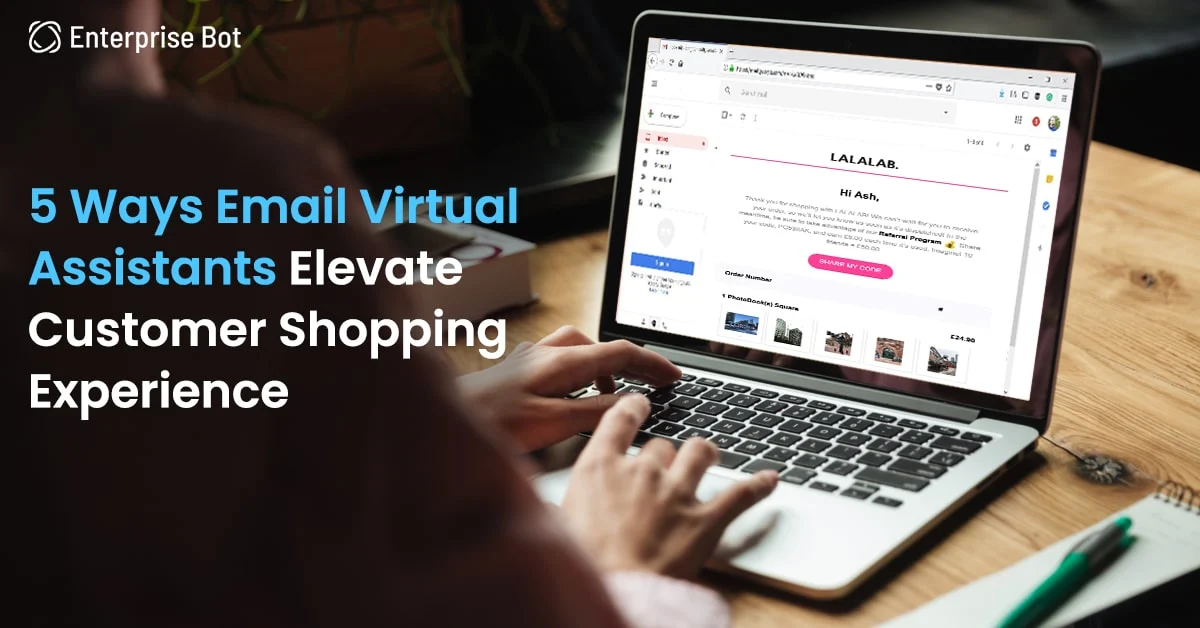 Have you witnessed the rapid growth of digital shopping assistants post-pandemic, across voice, email or chat?
No doubt, email is till date one of the most popular channels for customer service. Though new digital channels have emerged, more than 60% of customers still prefer utilizing emails and webforms to get in touch with enterprises. It is anticipated that email use will rise by 2 to 3% every year through 2023.
There's no ambiguity that COVID-19 has changed the buyer conduct and brought about many difficulties for retailers. Most consumers today look forward to online shopping for everything instead of visiting brick-and-mortar stores. As online retail and ecommerce sales are growing by leaps and bounds, how do you keep up with the high influx of customer emails?
As indicated by a 2019 review from Adobe, employees in the US spent a normal of 352 minutes of the day browsing through email. So, for all my math pros out there, they spend almost six hours a day on managing their inbox.
That is a ton of time.
Saving the time your employees spend in managing their inbox opens up new opportunities.
Do you have an overabundance of consumer messages complaining about orders placed or enquiring about refund policy etc.? How do you intend to keep up?
Employing a virtual assistant that can declutter your inbox by bringing the unread email volume to zero is a colossal chance to improve your employee productivity and ROI. For example, imagine your hourly rate with customers is $250, which is $1500 each day you're losing to the six hours in your inbox.
In this blog, you'll learn 5 ways virtual email assistants deliver personalized shopping experiences.
Are Email Virtual Assistants a Mere Customer Service Auto-Reply or More?
When customers drop emails to your customer support team, they expect faster resolution to their issues. Do you know how quick? 15% of US consumers expect a response within 15 minutes, whereas 28% expect the same within 30 minutes. However, on an average most companies take half a day or more to reply to customer emails.
Auto-reply emails are not new in the business. They have been here for a while. Sending automated acknowledgements on receiving customer emails helps in engaging customers and you can also update them by when they will get to hear from you. These automated responses have helped customer support agents in holding the attention of the customer to some extent. But it's not enough to sustain in today's competitive business landscape; now it's time to move further.
Today, AI-powered virtual email assistants give you a colossal jump forward in addressing customer problems all the more rapidly and precisely with real-time, meaningful solutions. This not only boosts your CSAT but also improves your agent experience. This new innovation is overhauling how retail enterprises contemplate email automation in customer service.
5 Ways Enterprise Bot's ERA boosts Customer shopping experience
Reduces average email handling time:
When customers drop emails to your helpdesk, they expect fast, reasonable and concise responses. They would prefer not to wait for days, rewriting their concern again and again to your representatives. They expect a seamless and faster resolution to their issues.
Average handle time plays a key role here as it shows what amount of time it requires to manage a customer request in your business.
Most companies struggle to maintain a decent average email handle time during peak hours. As support requests surge, the longer it takes for support agents to assist customers with the right solution.
So, what can be your best solution in improving AHT? Leverage the power of conversational AI to automate 60-80% of routine customer queries. Email virtual assistants boost efficiency reducing the AHT for email by 80% and deliver instant responses with high degree of accuracy.
Understands Customer Context & Emotions:
Support agents spend plenty of time reading, analyzing and sorting through emails, which engulps their bandwidth. This is why enterprises need an integrated automation solution that can accurately process a high volume of customer requests.
Enterprise Bot's Email Bot is one such AI-based application that just not reads, routes and responds to user enquiries in real-time, but performs advanced sentiment analysis with NLP to understand the context users are saying and boost accuracy. When the bot analyses the sender's intent, it automatically triages inbound emails and captures relevant information to reply without losing the human touch.
Cuts Down Cart Abandonment Rates:
Over 70% of online shoppers leave their carts at checkout. What if you could reconnect with the consumers who left their carts, and persuade them to finish the checkout.
It is conceivable – with the right solution. With Enterprise Bot's AI & NLP-powered email virtual assistants, you can re-engage those consumers who have abandoned carts, enhance CX, and boost sales.
One of the key reasons consumers prefer to shop online is on the grounds that they can shop at their convenience anytime of the day. As they can shop round-the-clock, they expect customer service assistance, 24/7. When your customers have elevated standards, you have no choice but to meet their expectations. This is the only way you can get a grip over your high customer churn.
One such technology with which you can send instant, personalized, solution-driven responses to your customers is ERA (Email Response Automation) even when agents are not around. ERA does not send not generic confirmation messages or canned responses to users. Rather, it performs advanced sentiment analysis to shoot accurate replies within minutes and increases your chances of converting customers.
Also, now and then, the most well-known explanations behind order returns are when individuals erroneously purchase some unacceptable size. Virtual assistants can play the role of style and size advisers to help customers select the right item, consequently lessening the odds of a return.
Initiates Personalized Selling:
Email bots are designed in a way that it can analyze your consumer behavior based on their shopping patterns, and can predict which products they are most likely to purchase. Moreover, virtual assistants engage consumers by sending personalized, follow-up messages with latest offers.
For instance, rather than wasting hours selecting products for your follow-up email, virtual assistants can deal with everything; They capture the latest products or collections from your website and send weekly newsletters to consumers based on their preference to boost cross-selling. Also, if a consumer has purchased something that can be purchased in cycles, for example, a night cream, the email assistant can send real-time reminders to him or her pitching whether he or she would like to repurchase.
Initiates post-purchase follow up:
In today's digital-first era deriving customer insights as feedback post-purchase can be highly valuable to assess the quality of your product or service and further improve. It's also a great technique to boost your customer satisfaction. Following up with your customers on their buying experience is a great way to express that you actually care about their fulfillment, despite the fact that you've already received the payment.
However, getting feedback is not that easy as customers often take it casually. They find it hard to take some time out of their busy schedule to fill out lengthy questionnaires. Many don't even make an effort to point out the flaws in your product or service unless any major issue is experienced. They remain skeptical.
So, while requesting customer feedback, you should be acting smart. For example, email bots can collect real-time customer feedback from customers in forms of rating that take 10-20 seconds to respond to.
Are you ready to scale up? Witness how Enterprise Bot's ERA will power up your customer experience. Request a demo today!
We offer cutting-edge conversational AI solutions powered by hyperautomation to revamp customer service and sales interactions for enterprises. Our AI-powered assistants enhance digital engagement for businesses by delivering omnichannel, personalized experiences. Powered by advanced NLP and effective intent analysis, our technological solutions map the entire customer journey to send automated responses in seconds and create an exceptional customer experience (CX).