7 ways to improve your chatbot accuracy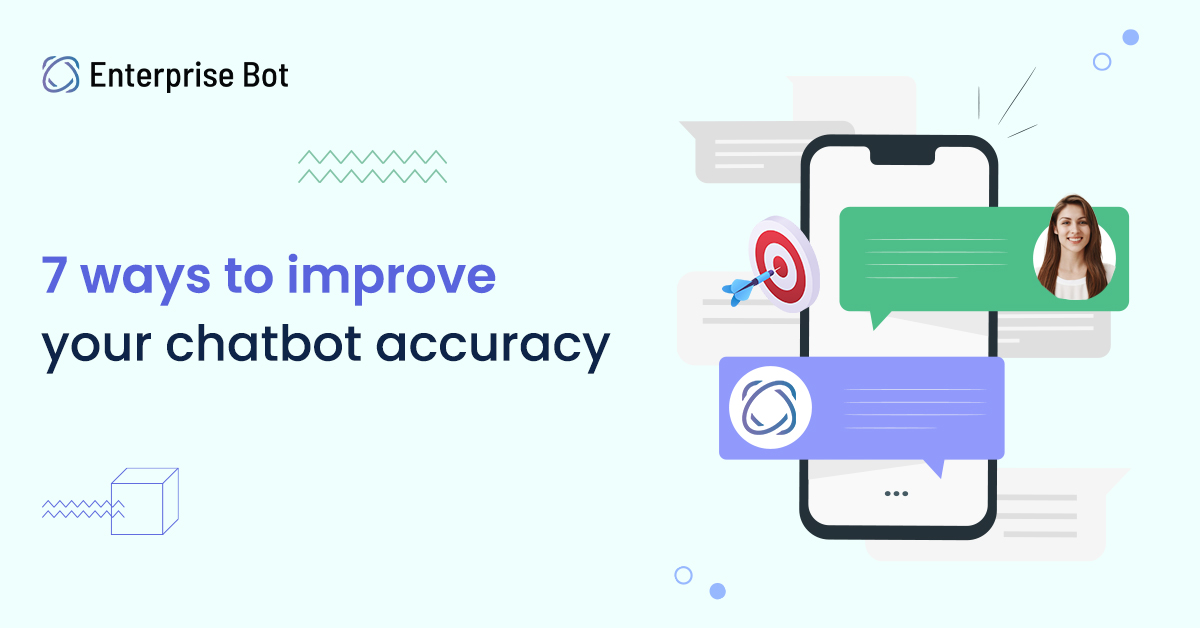 So, you and your team have worked for months to get your chatbot ready to go to the public (keeping it simple by calling it chatbot but it would also hold true for voice bot or email bot of course). You have tested it thoroughly with your team. The UI is perfect. The answers have been vetted by communications and legal and nothing can go wrong, right? It's hosted on the website.
There you go the first chat just came in. Ready to put up your legs and enjoy. Unfortunately the work has just begun 😊. With all our bots if there is something that we have learnt it is that there is no real test like a real user and the best bots are not just about the right testing before but the ones that learn from the live conversations and ensure that the right escalations ensure that the bots improving. In general, we have seen the first 30 days of how you improve your bot is going to define the success of your project. So here are 7 most important points to improve chatbot accuracy:
Get your major KPI's Planned ahead of time: This is critical. You need to know what are the main objectives you want to track. We have attached a sample KPI sheet. Ideally the bot platform you choose should have all these statistics inbuilt into their dashboard but if not ensure that you are tracking it to enable you to evaluate the success of your platform. For eg. if 52% of the conversations are outside working hours that is a great KPI to see the success of the bot of providing accurate and useful information out of office hours.
Monitor your Conversation/Training page:

Make sure the platform you choose has a good training window. For example, with our platform you can see the conversation and either validate or re-configure (correct) the response which allows the AI to continuously learn from every interaction in real time. The output should also show you the scores and confidence to you help you understand why something went wrong when it did
Filter on Unhandled conversations:

It might be difficult to go through every conversation so ensure that you focus on unhandled messages. This is a great way to quickly find out what are the missing topics or messages that the bot is not trained for and fix them (in our platform you can click on the red dot to filter and evaluate the relevant unhandled conversations.
Filter on Negative sentiment or Negative Feedback:

Of course, this may not always be possible but we strongly recommend our users to build feedback mechanism into their bots to enable you to get relevant user feedback. This is a default feature in our platform but this is critical so make sure you add it if you do not have this in your bot. This will allow your users to give relevant feedback and you can filter on for e.g. negative feedback conversations to see what went wrong and quickly find areas of improvement.
Analyze exit points:

Another good practice is to see at what intents do people exit the conversation. This insight is extremely useful to find faults in your bot as well. If you see an intent getting a lot of exits in the middle of the relevant conversation then you can play with the messaging to ensure you get the user to the right response and outcome.
Analyze returning users:

Track how many users are coming back to the bot and/or how many conversations is the bot handling. Any major drop or spike should be investigated immediately.
Automate:

This is the last but most important point. Analyze which topics have a very high usage but are only responding with FAQ's. These are the topics that will drive customer satisfaction and NPS the most. Just focusing and

automating 2 topics could mean over 30% increase in customer satisfaction.
Hope this helps you improve your chatbot accuracy and if you would like us to analyze your existing bot or talk about how you can improve it feel free to reach out to us at customersuccess@enterprisebot.ai
We offer cutting-edge conversational AI solutions powered by hyper-automation to revamp customer service and sales interactions for enterprises. Our AI-powered assistants enhance digital engagement for businesses by delivering omnichannel, personalized experiences. Powered by advanced NLP and effective intent analysis, our technological solutions map the entire customer journey to send automated responses in seconds and create an exceptional customer experience (CX).