As a Healthcare professional, how are you quantifying your HealthTech investments?

Nikhil Menon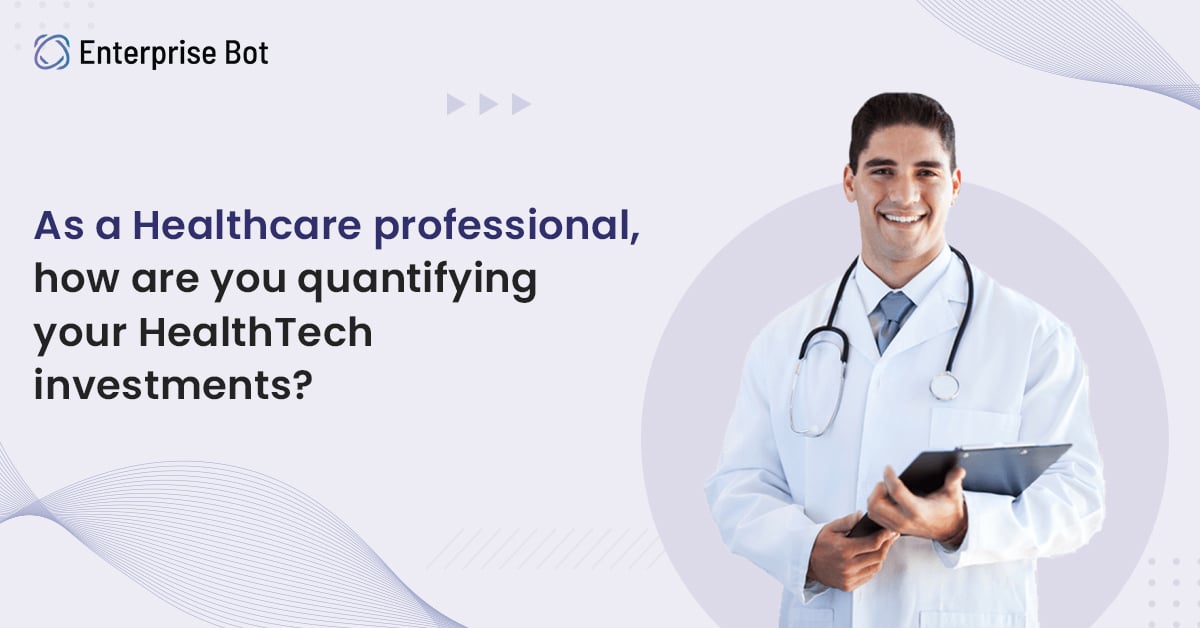 HealthTech is more than just a common buzzword for global healthcare systems.
The growing investments into HealthTech products/platforms and other healthcare-oriented solutions come from the backdrop of a global pandemic and systemic inefficiencies.
What do we mean?
The healthcare industry is known to be a heavily cost-intrinsic segment due to uncontrolled costs associated with administration, procurement and time management.
Experts say that medical service providers to this day still rely on traditional manual processes to execute simple and redundant tasks. This has turned out to be detrimental because of the time and effort wasted by skilled personnel to complete these administrative tasks.
Studies have shown that over 30% of doctors and clinicians spend over 20 hours a week just completing routine tasks. That's 20 hours of skilled manpower hours lost to process inefficiencies.
Similarly, when the COVID-19 pandemic hit, healthcare systems were faced with an onslaught of increased hospitalisations and infections, making it harder to impart quality care whilst juggling paperwork.
And this is just the tip of the iceberg. Healthcare professionals require solutions that only streamline operations, but also improve patient experiences. By automating tasks, making interactions seamless and ensuring information is always in real-time, AI-powered automation seemed to tick the right boxes.
HealthTech investments grew to become a USD 250 Million industry in 2020 and will continue to grow at a CAGR of 13.1% until 2030.
Hence, to be able to put the healthcare industry's pain points into perspective and showcase how intelligent automation can work wonders, we conducted a webinar.
By partnering with Intone Networks, we conducted an interactive webinar on how medical service providers can 'Improve patient experiences and accelerate ROI' with a Conversational AI solution such as HealthAI.
What did we cover in the webinar?
We explained how our suite of solutions can help:
Increase appointment conversions through intelligent interactions
Reduce the overall costs associated with each appointment
Increase in handling capacity during high volume like the COVID outbreak
Reduce physical interactions through virtual consultations
If you're interested in watching the webinar to know more about this, click here.
For more details on who we are and what we do, visit our website.