[Funding Alert] We're ready for our Series A after raising USD 2.25 Million, led by FiveT Fintech and other marquee investors

Nikhil Menon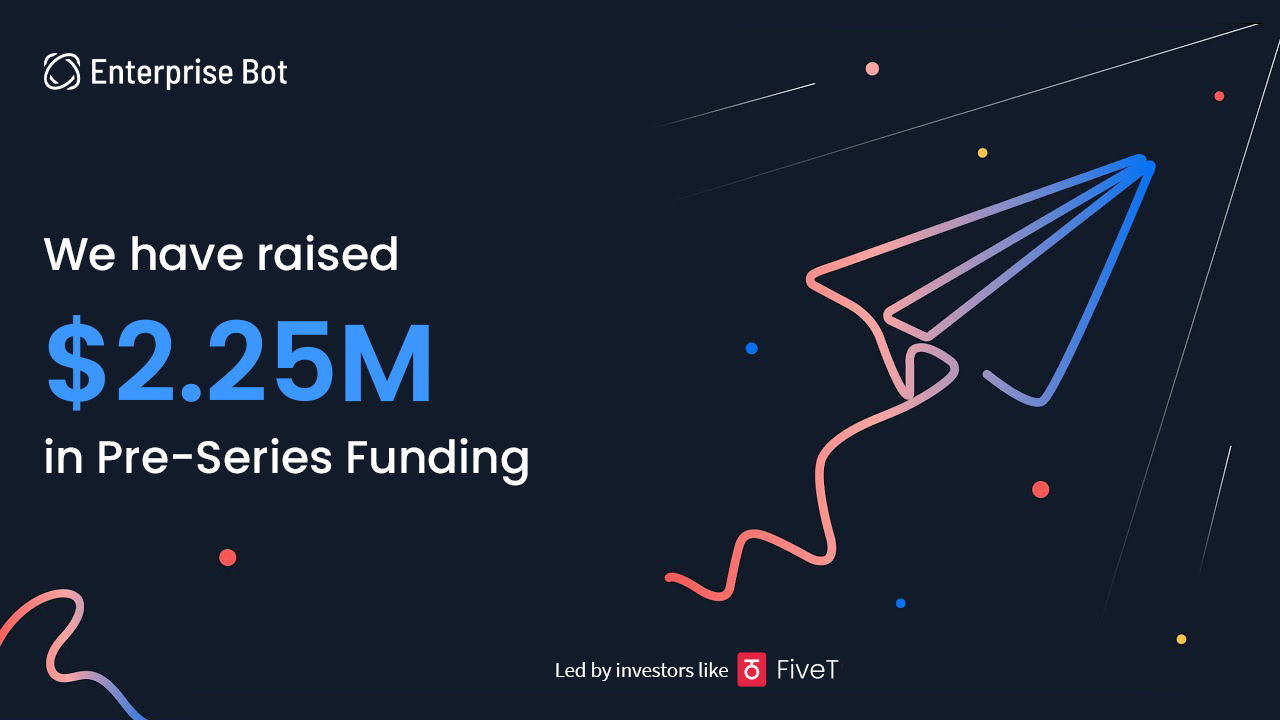 The global Conversational AI marketplace is booming and has been on an upward trajectory over the last five years.
As per Gartner's annual market trends survey, there are currently over 2,000 vendors that operate in this space by building, maintaining and deploying AI-powered virtual assistants. Taking various forecast models and reports into account, the total value of the CAIP (Conversational AI Provider) market is estimated to reach between USD 18 - 36 Billion by the year 2026. [1]
Due to the varied options available in the market today, vendor selection ultimately boils down to one factor: fitment.
Based out of Zurich (Switzerland), Enterprise Bot is one of those players in the arena.
Having been founded in 2016 by Pranay Jain, Ravina Mutha and Sandeep Jayashankar, Enterprise Bot has been growing by leaps and bounds over the past seven years. Starting off as an idea, the organisation has grown to over 70 employees split between offices in Zurich (Switzerland) and Bengaluru (India).
In the last 18 months alone, we have doubled our revenue and impact by adding renowned clients like DHL, Global Blue, Franciscan Health, Assura, SVA Aargau and Afterpay Germany.
Led by FiveT Fintech (previously Avaloq Ventures), Enterprise Bot completed raising a total of USD 2.25 Million from marquee investors over three rounds as we prepare for our upcoming Series A round.
Gearing up for its push into competitive markets like North America, this latest capital infusion will play a great role in strengthening our war chest for expansion, marketing and product development initiatives.
Since its inception, Enterprise Bot has been committed to building intelligent virtual assistants that can be incorporated across diverse verticals within an organisation, as well as support over 250 different use-cases.
The advantage that Enterprise Bot holds over its competitors is its overall scalability and integration capabilities. Enterprise Bot has partnered with most of the leading CRM platforms available in the market, therefore making scale a redundant problem area. Moreover, the ease with which the virtual assistants are built, trained and deployed make for a cost-effective solution.
Moreover, the team at Enterprise Bot has been building a revolutionary new product in stealth, where enterprises will now be able to deploy an AI-powered chatbot in just 24 hours. This concept is previously unheard of in the market and is due to be released within the next month.
Hence, FiveT Fintech doubled down on its investments into Enterprise Bot, as the investment firm is re-establishing its faith in us before our Series A round.
About 5T Fintech:
FiveT Fintech invests in and supports exceptional entrepreneurs redesigning financial services through digitization and the use of cutting-edge technologies. Formerly known as Avaloq Ventures, FiveT Fintech is working closely together with Avaloq's ecosystem consisting of over 150 financial institutions, spread across more than 30 countries with over $4'500bn in client assets, as well as 120+ fintech start-ups. Being at the forefront of financial innovation, FiveT Fintech helps banks and financial service providers to venture into new areas and provide early-stage fintech companies a platform to prosper and scale.