How AI-powered customer service automation can prepare your business for navigating a post-COVID world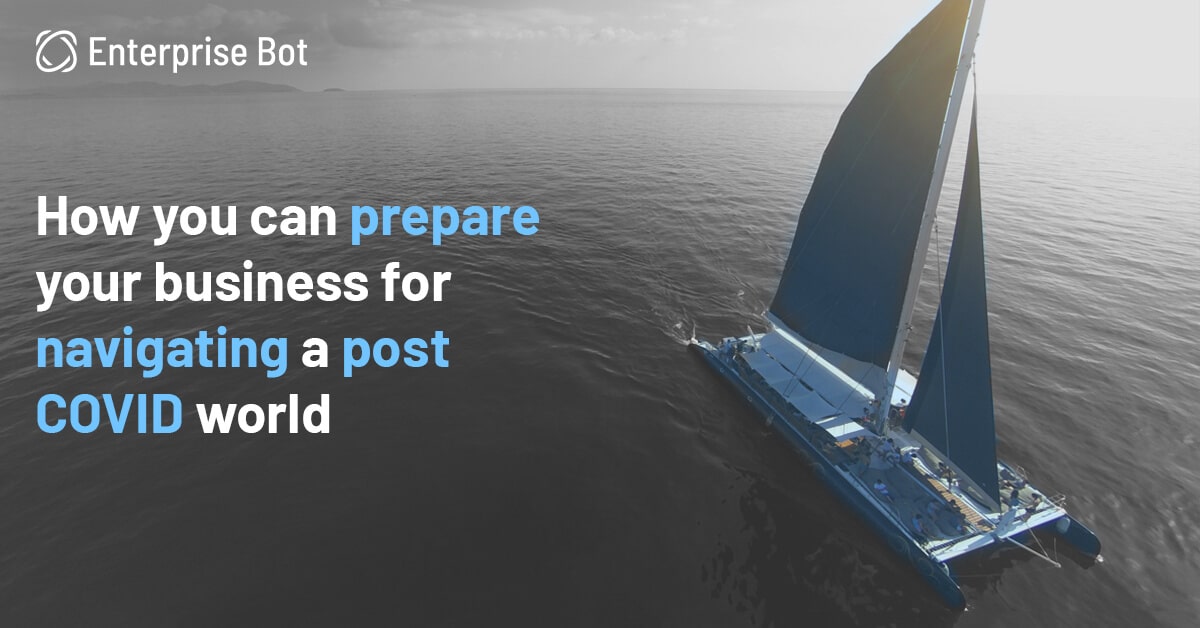 Start by adopting AI-fueled automation to free up time for what matters the most
From banking to retail, healthcare to manufacturing, education to professional services, it is a confounding time for businesses around the globe. Companies that have been slow adopters of digitization are facing fragmented workflows. Teams that are not used to the concept of screens and access and just "way too many" clicks are stuttering. Remote working is the new order. Organizations that are acutely dependent on the staff being present in the office at all times are feeling crippled. Contact centers of enterprises worldwide have shut shop. Fighting anxiety is the newest addition on the to-do lists alongside other everyday tasks.
Ironically, it is also a time for monumental reflection.
It can be a humbling revelation for the modern leader that almost everything they think they know about planning and strategizing and running a business can fall by the wayside, any moment. That virtually everything is, and will always be, perennially open to new and better ways of being done.
In this exact vein, it's a time for the leaders to take the reins — and do what they do best — bounce forward.
You, as a leader, have the onus upon you to reexamine the collective mindsets of the people involved with your business — the employees, the stakeholders, the management, the customers. And to refuel them with the right tools and guidance to survive the waters when in these perilous times, the status quo isn't the status quo anymore.
How you can prepare your organization for resilience and transformation amid uncertainty will be a strategy tailormade for your business needs. Still, the points below illuminate a general pathway and might just be able to help.
A post-pandemic business playbook
1. Leverage data to decentralize the decision-making process and empower your teams to self-manage
Your organization's capacity to leverage data, automation, and algorithms will determine your and your customer's success. Whether you are a multi-billion pound hotel chain or a small retail pharmacy, your future is likely to depend more on how well you leverage automation and algorithms and are able to use the data generated by your customer interactions rather than how well you manage the traditional levers of your business.
Your ability to adopt machine intelligence to collaborate with your teams, optimize your core processes, and appropriately reallocate your resources will determine the course of transformation your business will take.
This is because we are operating in a time punctuated and recognized by real-time data. And ten years hence from now on, everything will only be more automation-driven and profoundly data-centric. You could be waiting for the muse to strike, albeit your next big idea could be hidden in your customer conversation logs or in the notes maintained by your frontline reps from their interactions with your customers.
A step as simple as adopting an AI-driven chatbot for collaboration with the customer service employees could help them make better decisions and self-manage their work on a micro-level.
Besides leading to more informed solutions, the data mined by the chatbot could end up informing every aspect of how your employees approach the problems- from the simplest to the most complex ones.
2.

Automate processes through AI-powered customer service automation platforms
For instance, to overhaul customer interaction, you may adopt an email bot and automate responses to customer emails that are just cumbersome and repetitive. This will eliminate friction and inefficiency and is, unequivocally, one of the awesome superpowers that come with using AI.
But as the world becomes increasingly frayed by the novel virus, the need to stick together is growing more urgent than ever. And in its wake, the most important thing a leader can do right now is manifest their humanity and reinforce their principles, their ethics, and their values, into their teams, down to the last man. Or even bot.
Because AI can hardly do that for itself. Your customer support reps will be able to interpret what the data collected by the bot is telling them, but they will need to decide for themselves whether those conclusions are just, appropriate, and ethical. They will need to accordingly reorchestrate the capabilities of that bot so that it can become as just as them. Or perhaps, more.
Often, people's prejudices and inherent biases subconsciously trickle down to the algorithms they are working with. These are real risks of automation, and it is critical that you take measures to reduce them.
As much as AI can help your business augment the capabilities of your teams, your customer support reps should collaborate with it to refine and validate its algorithms continually so that you, as a business, can make the right decisions for your customer and for the future ecosystem you operate in.
3. Check if your team is using the right approach, instead of monitoring if

they
are getting the right results
It is about approaching problems and making decisions in a structured way that allows you to ultimately leverage data for prediction and automation for efficiency. Focusing on the process, and not the results, will make your teams incrementally productive and help your organization. Sometimes, it might just end up achieving more for you and your business! Better prediction could change strategy. It might even change what your organization does and lead to entirely new opportunities.
So inculcating in your teams, computational thinking, and natural disposition towards a data-driven problem-solving approach, be they programmers or executives or customer reps, is an invaluable investment, critical to the continual growth and success of the enterprise over the long haul.