How AI-powered customer service solutions can support your agents and customers during these unprecedented times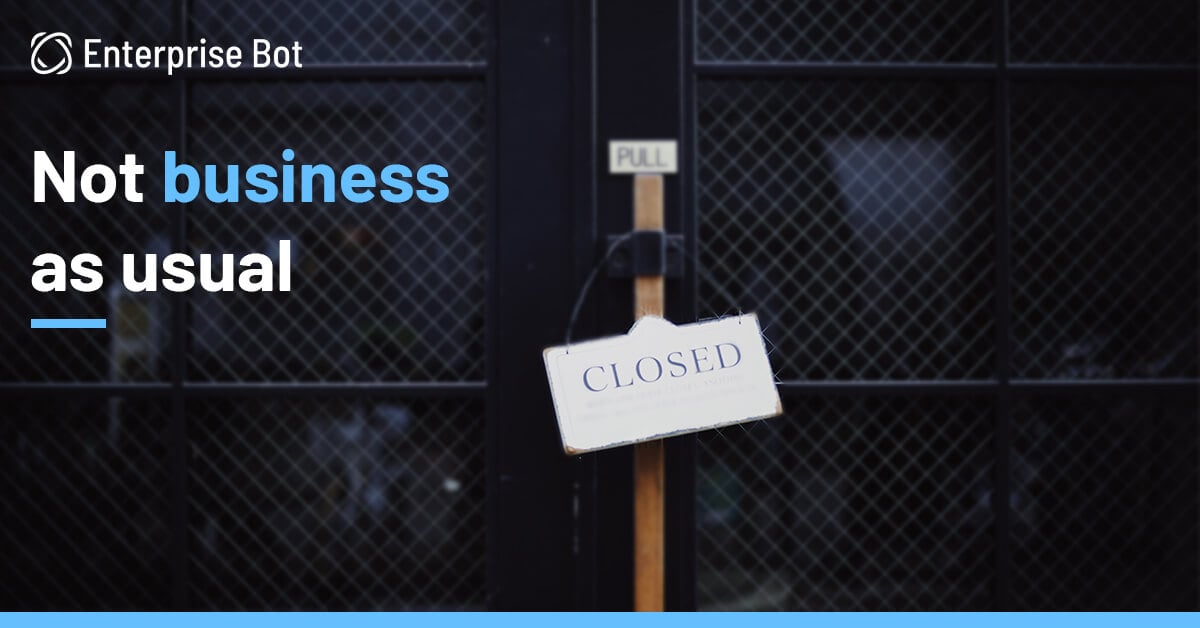 As the grip of COVID-19 intensifies on an increasingly splintering world and more and more people shelter themselves indoors for work, life, and everything in between, businesses large and small are finding themselves struggling with an overbearing demand for answers.
The customer is unravelling. People are looking for a semblance of clarity amid the confusion and uncertainty surrounding the pandemic. And service managers are finding it increasingly difficult to navigate the surging demand as support agents turn as panicked, anxious, and unsure as customers themselves.
Businesses spanning restaurants, food delivery, meal kits, healthcare, gaming, education, technology, streaming, e-commerce, and online subscription services are registering alarmingly high volumes of support tickets. Where the support reps are finding themselves overwhelmed by the burgeoning numbers, frustrated customers are experiencing hours-long wait times and turning more distraught.
Even as these companies have latched on to a hiring spree to add up to the numbers, the customer service leaders are facing fresh challenges from training and monitoring new hires remotely to outfitting teams for remote work to ensuring smooth coordination and productivity.
And despite the hiring frenzy, teams cannot scale indefinitely and as immediately to keep up with business for want of a good ROI.
In these strained circumstances, it can be difficult for your business to maintain trust and transparency, keep resolution times down, and ensure high CSAT. With limited resources, the task can as well feel Sisyphean.
Artificial Intelligence. Real solutions
AI-powered, collaborative solutions like chatbots, email bots, and voice bots are wellsprings of invaluable customer data and agility. From maintaining CSAT to boosting team productivity to crafting experiences that build long-term loyalty, AI tools can serve as the perfect aides to customer support agents and help your teams veer back to the path of the customer and employee happiness. Here's how:
1. No cheat days
AI is available to hear out your customers' requests, 24/7. It functions continuously without any need for breaks or sleep or sick leaves. In collaboration with your support teams, it can lead to a quick resolution of customer woes by immediately attending to all predictable and repetitive requests by itself and transferring the remaining more pressing and critical queries to support agents. For your agents working remotely, this can translate into a significant reduction in workload and stress. For your customers, the response times go down substantially. Win-win!
2. Scaling up is downright easy
As customer request numbers rise precipitously, AI can scale indefinitely to immediately adapt to the evolving uptick. On the other hand, hiring new agents is a costly affair. It can take days, even weeks or sometimes, months, to hire a new employee and then some more for their on-boarding and training. In remote conditions, this process can only be more overwhelming.
AI can handle variegated requests, and thousands of them, at a single point in time. And it can be trained and deployed from anywhere — whether your teams are working from homes or the office. Once deployed, it constantly improves, one customer interaction at a time. It can be a fundamentally reassuring helping hand for your support agents in these precarious times when looming volumes of requests can make them feel stretched to their brink.
3. Wellspring of data, insights, and trends
AI is always collecting vast amounts of user data which makes it capable of drawing insights and mapping customer trends. For instance, it will be able to alert customer service managers if there is a swell in tickets related to a specific issue, or within a specific geographic region. This can help the teams monitor the situation, immediately craft an appropriate response plan, and proactively respond to customers in the wake of it.
4. Track and improve employee productivity
AI can monitor and measure employee wellbeing and productivity metrics in-depth. In real-time, it can familiarize customer service managers with what's working and what's not, and what agents need next. By helping your leaders keep track of SLAs, CSAT, resolution times, response times, and more, AI can help boost employee productivity and ensure employee happiness.
5. Handle difficult customers smartly
Research has consistently shown that the emotional labor that customer support reps are attuned to — the smiling through rudeness, the calming of nerves in the face of an angry customer, the constant control of one's own emotions — can have "uniformly negative effects on workers".
This study holds true in the normal world. Now, look at it through the lens of today's crisis — the customers are uncertain, panicked, and anxious — and it all gets compounded significantly. The customer support reps too, individuals and families, confined at homes, are struggling with multiple jobs like parenting, teaching, household chores, keeping physically and mentally well, taking care of the elderly, etc. besides listening in on customer calls and replying to requests on chat and email.
AI can take care of the agents' emotional wellbeing by taking significant workload and responsibility off their shoulders. It can also leverage sentiment analysis to direct frustrated or anxious customers to the right agents. For instance, this could be an agent who has not had a difficult customer in the last hour, sparing the agent who just got down with one on the call.
6. An omnipresent customer means omnipresent opportunities
AI can scale across email, chat, and voice. It can strengthen the capabilities of your customer support network and ensure superior customer service notwithstanding if the customer phones in, sends in a chat request, or pings on Twitter. When you leverage AI, you don't have to uphold or sacrifice performance on one channel while your teams focus on another. AI enables your business to be present on a customer's channel of choice and ensure seamless experiences.