How Generali automated responses to 40% of customer emails using AI-powered email parser software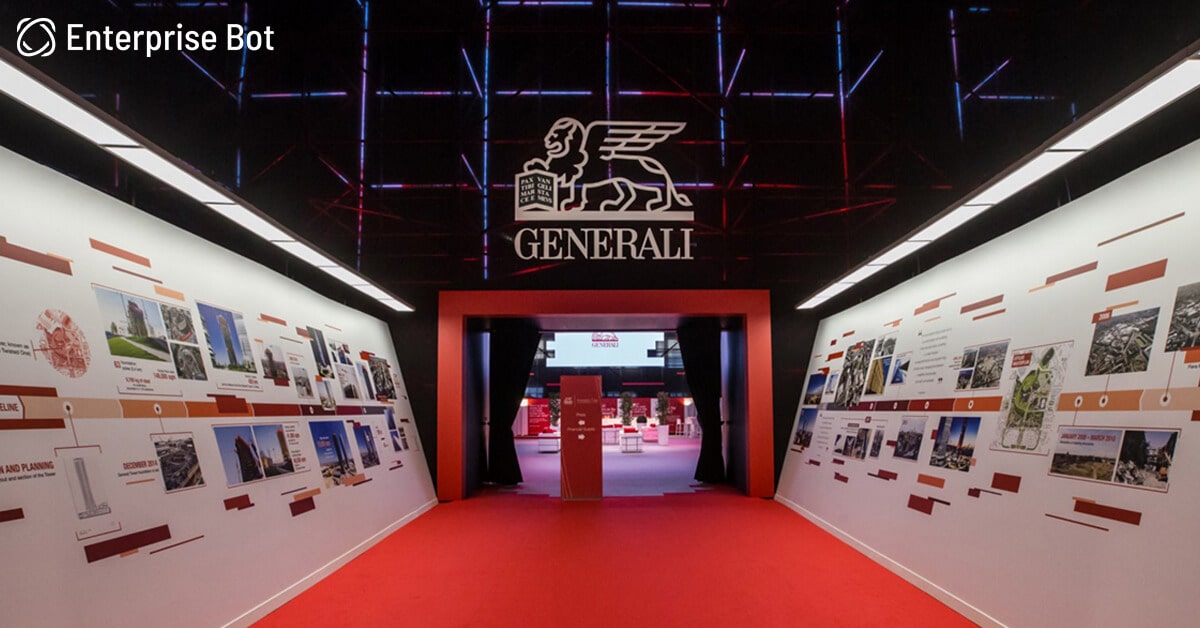 For Generali Switzerland, one of the largest global insurance and asset management providers, handling customer emails was becoming increasingly fraught with troubles. The organization was receiving emails concerning a wide assortment of customer requests and in myriads of languages addressed to a single mailbox. Their CX department was handling significant volumes of customer email requests every day and an occasional surging demand in the thick of emergencies only overburdened the staff and blighted operations further.
The requests routinely demanded meticulous segregation and triage to the right department, that was being done manually, and was marked with repetition, tedium, and unproductivity.
Moreover, the company was paying high costs employing highly qualified customer service agents whose sole job was often just forwarding emails every day. On the customer's end, slow email routing and sluggish response speeds were eating away at satisfaction as they had to wait long times while their email requests took days within the organization, just to get forwarded from one department to another more appropriate one. All in all, the company's email management workflows were riven with inefficiencies and it was struggling to manage peak time traffic effectively.
The Solution
We, at Enterprise Bot, understood the core pain points of the organization and recognised what Generali needed was robust and collaborative technology that could empower their contact centre teams and make their customers happy at the same time.
To fulfil these goals, we provided Generali with our proprietary AI-powered Email Response Automation (ERA) engine that was preconfigured and enterprise-ready, and could be deployed on-premise within just three months.
Not only was our solution quick to integrate with Generali's Outlook servers but it also leveraged its advanced Natural Language Processing capabilities to understand the customers in their language. Our polyglot email bot understood and spoke excellent German, French, Italian, and English and attended to a wide, multilingual customer base very smoothly.
Key Functions
Our solution automated email triage for the Swiss insurer. The bot was able to process incoming emails with a language parser and understand the customer's language and context with high precision. It used AI to analyze the email content, recognize the topic of the request, dispatch it to the right mailbox, and send instant, personalized responses to customers when required.
The bot would automatically log customer requests as tickets, extract relevant entities, and would resolve and close them after having understood the intent and performing the desired action without any human intervention. The ERA engine was capable of Sentiment Analysis and in cases, where requests were more complex and delicate than usual, the bot would immediately escalate it to the right customer support agent with the entire communication history intact.
Key Features of ERA Engine
1. Advanced Natural Language Processing
Advanced NLP and multilingual capabilities to understand customers in their language and to keep on learning more languages regularly
2. Easy Channel Integration
Omnichannel support through easy integration with commonly used customer support channels like Exchange Web Service, Gmail, and Outlook 365 in a few, simple clicks
3. Easy Backend Integration
Quick integration with commonly used enterprise software like Genesys, Guidewire, Salesforce, UI Path, and SAP with or without using APIs
4. Enterprise-Grade Security
Minimum 256-bit encryption for all communication at both transmission and rest, and freedom to define access controls for utmost data security and GDPR compliance
5. Choice of hosting
Both on-cloud and on-premise facilities available
6. Rules Engine
Freedom to set custom rules and workflows for exception cases
7. Audit Trails and User Access Rights
Ability to monitor the changes and retrieve data as and when required to ensure compliance and control at all levels
Results
Our email automation solution was quick, cost-effective, and empowered Generali with out-of-the-box domain knowledge and integration capabilities.
The proprietary ERA engine was able to boost customer satisfaction by reducing the long response times associated with recurring email requests. By automating around 80% of routine queries, the solution also ensured agent empowerment in real-time by freeing up the frontline reps to employ their unique strengths of deep thinking and complex problem-solving for more critical and value-adding requests.
Impact on KPIs
Our automation solution proved a pivotal step in Generali's digital transformation. It helped smoothen their customer journey, scale business effortlessly, and re-engineer CX for greater agent productivity and high ROI.
What Generali Switzerland has to say about us
Martin Frick, COO Generali Switzerland
Enterprise Bot deployed a complete on-premise solution in just 3 months for us. We are happy to say that we have expanded our collaboration to more use cases and countries. Their platform is fast, simple and delivered over 40% of automation within the first month of go live.