Transforming Patient care with the Power of AI in Healthcare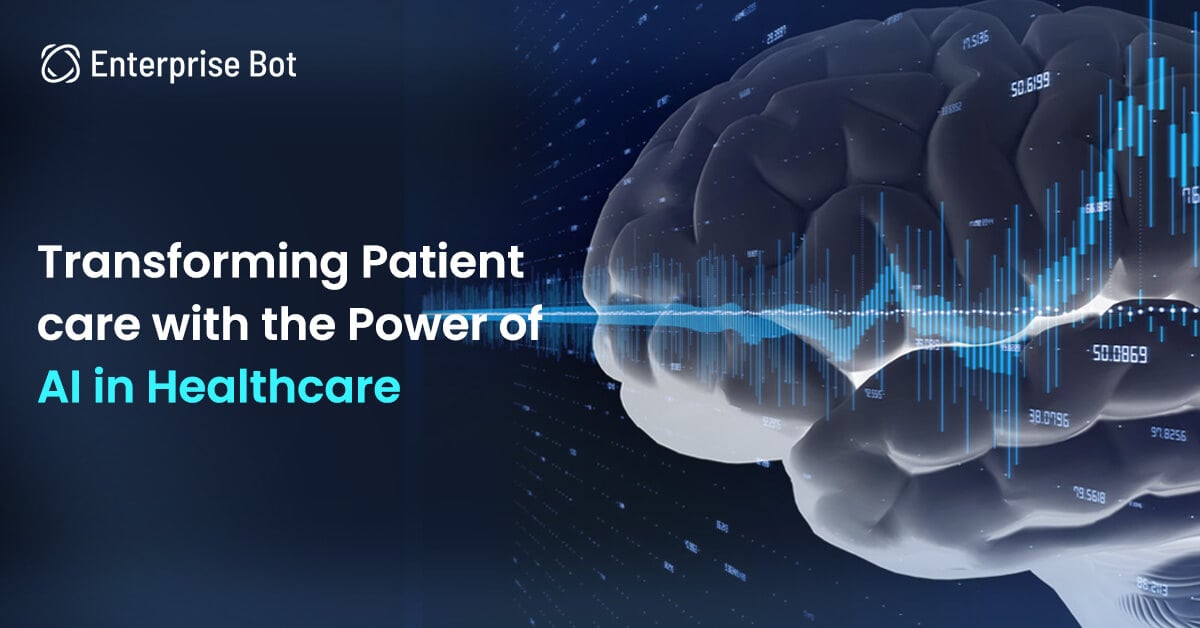 AI in healthcare is a fundamental instrument that is transforming patient journeys and reshaping clinical care. Currently, users are playing a more definitive part in their medical care venture as they bear greater duty regarding the expense of care. Moreover, with coverage-related government orders they expect quick, top notch and accurate information to help them make keen, savvy choices.
We cannot deny that we live in the age of technology, and healthcare is no exception. Whenever an individual feels sick or experiences any symptom, he turns to google to find about it. Most doctors come across patients who have stepped into their clinic or have visited the hospital with softcopy or print outs of their google search results, and flooded them with questions. You simply can't ignore the fact that the web regularly drives individuals to draw wrong and even harmful decisions about their wellbeing. Healthcare chatbots can be of great help here.
As healthcare moves towards a more patient-driven industry, healthcare providers must revamp their approach to delivering a seamless, exceptional experience for patients, doctors and other staff, while slashing costs. Unfortunately, traditional call centers face a number of challenges due to underlying loopholes that conversational AI can easily eliminate.
Here is a rundown of the key use cases of conversational AI in the healthcare sector:
Appointment Booking:
Booking an appointment at a medical clinic or hospital is one of the most common patient inquiries medical service providers come across. Chatbots or voice bots can direct a patient through the necessary data required to book an appointment over a discussion and eventually complete the transaction by confirming or canceling appointments.
Prior, you would email the medical clinic's client care group straightforwardly or call them to register and book an appointment. Some emergency clinic's websites used to have an option to check the schedule and get a reasonable time slot.
Today, chatbots are being utilized to complete this, very much like addressing a partner. You need to type in what you would like to know through a series of chats or voices, following which a calendar will open to help you book your appointment. You have the option to select from the list of doctors based on your search, their specialization, availability etc., all in the conversational interface. AI-powered chatbots are HIPAA compliant and accelerate the process of appointment booking by automating complex, repetitive user queries. It also assists you with:
Pre-appointment reminder
Patient feedback collection post consultation
Appointment confirmation alert on user
Email / SMS
Prescription Refill
Symptom Checking:
Healthcare organizations have deployed AI-powered bots to help patients check on their health and comprehend ailments from the solace of their homes. Chatbots enabled with the power of NLP (Natural Language Processing) can comprehend patient demands despite the input differences in the query asked using advanced sentiment analysis. It is critical to ensure a high degree of accuracy and consistency in all chatbot responses you share with users.
Healthcare chatbots analyze the query users have asked, evaluate data and help them narrow down the possible reasons behind their symptoms. With all the information shared by the bot, users can decide if proficient treatment is required or over-the-counter drugs are sufficient.
Symptom checking chatbots help patients with remote treatment, advice and medication, and aid doctors freeing them up from routine check ups and redundant tasks. Patients can set aside their time and cash while treating minor diseases with over-the-counter prescriptions, and specialists get bandwidth to better monitor patients with critical conditions.
One of the promising healthcare chatbots available in the market today is HealthAI. It assesses patient symptoms, shares personalized information on root causes of their health issues, and suggests next best action to seek care. It acts as a personal health advisor to users throughout their care journey. Our symptom checker is based on thousands of research paper data points and delivers users the most consistent experience.
Patient self-assessment
Faster prescreening of patients
Reduced call volumes in healthcare contact centers
Instant triage for immediate assistance
Patient Treatment Follow Up and Reminders
As a healthcare provider, if you are focusing only on delivering quality care on patient visits and admission, you are only doing half. Post-treatment care is as critical as providing treatment on admission. AI in healthcare helps hospitals and clinics to keep a check on their patient progress post-treatment. Healthcare chatbots play a significant role here as it keeps patients engaged in the post-treatment phase.
From monitoring patient vitals habitually after treatment, to updating them on follow up treatments, and sending them real-time medication reminders – it does everything to minimize possibilities of relapse or readmission. It's a win-win for both patients and hospitals. Patients become fit and healthy, and healthcare professionals don't get overburdened. With AI in healthcare, you can also share diet plans with your patients for better health management.
Video E-Consultation & Co-Browsing
If a patient has awakened in the middle of the night with symptoms that he is worried about – how would he be able to respond? Regularly, he would need to stand by until the specialist's center opens the following day, or hurry to an all day, every day facility. Be that as it may, with an online consultation, he can seek care from doctors 24/7.
The utilization of video can be an extraordinary alternative for patients where travel is not a viable option. It may very well be especially beneficial for those in separated networks where public vehicle access is restricted or where travel to huge urban communities might be an overwhelming possibility.
Patients can see primary care physicians without wrecking their timetable. In addition, they don't need to sit in your primary care physician's lounge area for a meeting. Instead, they can enjoy the solace of their own home while chatting or talking to the doctor.
Moreover, video e-consultation rules out chances of the conceivable transmission of irresistible infections among patients and clinical staff. This is especially an issue where the spread of Covid-19 or influenza is a worry.
With AI in healthcare, you can deliver personalized consultation to your patients virtually as you would face to face. Talk to your patients and treat them over video call through live video consultation and co-browsing with a simple click.
Live agent escalation
Chat, Audio and Video consultation
Co-browse the website with your customers
Complete control over view mode
Completely secure connection for HIPAA compliance
Better resolution to customer issues and higher CSAT
Treatment follow up
Conclusion
Conversational AI has effectively presented a powerful defense for the overburdened medical care area. But, unfortunately, it's anything but a keen, patient-driven, and intelligent way to deal with restoring the business, which is by and by battling the twin difficulties of a destructive pandemic and constant undersupply of medical professionals and equipment compromising the quality of treatment.
The healthcare industry is already prepared for different use instances of conversational AI. Whenever applied fittingly, these frameworks can fundamentally transform patient experience lives and the clinical world. A couple of countries have effectively begun utilizing conversational AI for a huge scope to support their medical care administrations.
Conversational AI has generously raised the assistance quality bar by automating redundant processes. The innovation helps professionals recognize symptoms expeditiously, segregate patients based on who need special care from the less basic ones, and schedule appointments accordingly. Furthermore, they can accumulate important data during patient registration, disposing of the chance of any bumbles.
We offer cutting-edge conversational AI solutions powered by hyperautomation to revamp customer service and sales interactions for enterprises. Our AI-powered assistants enhance digital engagement for businesses by delivering omnichannel, personalized experiences. Powered by advanced NLP and effective intent analysis, our technological solutions map the entire customer journey to send automated responses in seconds and create an exceptional customer experience (CX).