Voice Assistants in Healthcare: Delivering contactless Patient Experience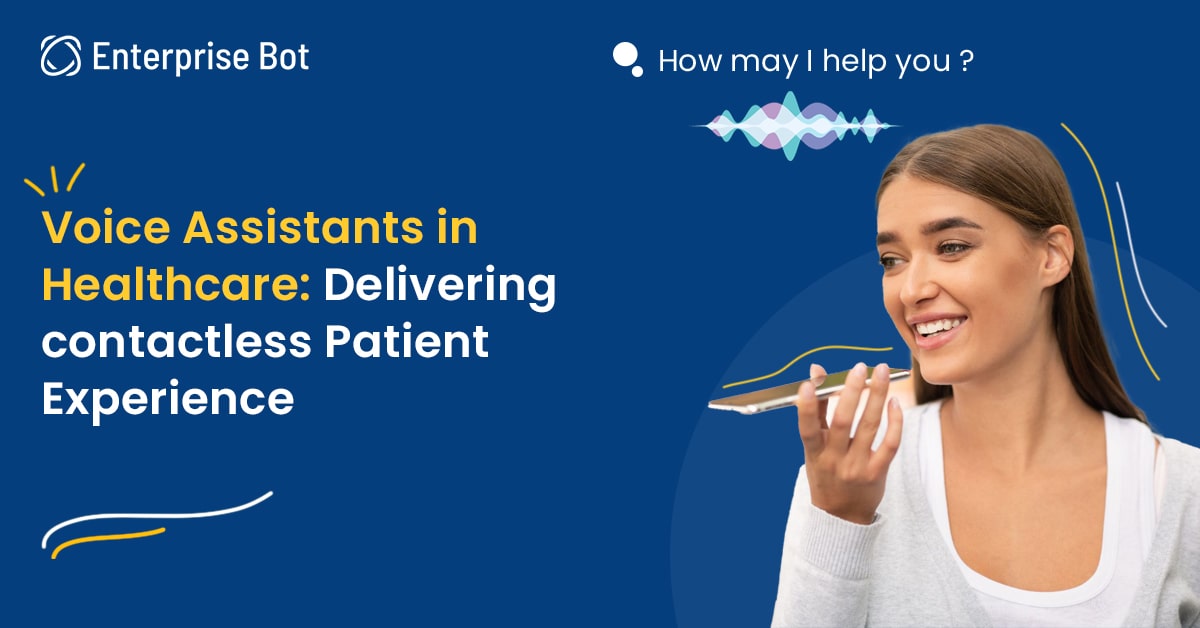 Voice assistants are causing ripple effects across industries, however, the groundbreaking force of innovation is presently at a tipping point for healthcare. Today, more than 1 billion Google searches are reported daily on healthcare. With more than 41% of Americans currently owning smart speakers, it comes as no big surprise that the adoption of voice assistants is rising for healthcare use cases.
Over the past few years, we have witnessed a rapid growth of voice-interactive healthcare and it is not going to fade away anytime soon. To understand better, let's take a look at the below figures:
While all the above figures suggest that voice assistant use in healthcare is accelerating, in reality, 19.1 million is only 7.5% of U.S. consumers who have previously used a voice assistant for a healthcare-related inquiry or task. Most healthcare enterprises are still far beyond adopting a digital-first approach though most of them are willing. They are passing up an enormous chance of streamlining operations, delivering what the patient needs, winning loyalty and trust, and offering a better user experience. As healthcare providers, the need of the hour is to head towards a digital-first future to be able to deliver patients with a seamless experience.
Here is a gander for you at how voice search is changing the manner in which patients seek assistance and how it impacts the healthcare providers. Be it Alexa skills or Google voice searches, voice-interactive healthcare is transforming patient experience everywhere.
What do today's consumers expect?
How patients look for and get healthcare assistance has completely changed over the past few years. Today, most patients initiate their search online be it an enquiry regarding medical coverage, specialists, test bookings, or hospitals. Online reviews, social media posts, the brand's online presence greatly impact consumer decisions. they develop their own perceptions and settle on a choice before they even receive care.
Living in a technology-driven world, consumers expect that their experience with healthcare organizations should be personalized and consistent. However, as indicated by another report, more than half of the consumers did not have a holistic experience from their healthcare providers. It further depicts that 71 percent of respondents expressed huge dissatisfaction with their healthcare experiences due to delayed responses, lengthy & complex processes, random visits, and difficulty while scheduling an appointment.
It is not that easy to get to the bottom of what consumers really want from their healthcare experiences. As innovation propels across industries, consumers set similar expectations for healthcare. Naturally, the pressure mounts up. For example, if they can book a ticket virtually, why not an appointment with a physician?
Patients today are proactive about their care management and spares ample time in comprehending various aspects of the healthcare ecosystem pertaining to them. Naturally, their expectation of healthcare providers is growing in terms of care delivery and experience.
85% of consumers have expressed concern over rising healthcare costs. To put it simply, they would prefer not to burn through every last dollar or their backs. Patients would prefer not to be dealt with like a number; their expectations revolve around being treated personally.
One of the principal ways consumers seek healthcare organizations to eliminate erosion is by building text / voice-enabled digital healthcare experiences. 58% of consumers reported that they would like their healthcare journey to be digital.
Prioritizing Patient Experience: Building Patient-centric healthcare
Patient centricity is perhaps the most squeezing need for the healthcare industry today. 50% of consumers have reported that the healthcare industry is more focused on itself, in contrast to meeting patient needs. From clinics to hospitals to emergency care, organizations across the business are rethinking how they can deliver on-demand healthcare and focus more on patient outcomes. Healthcare should be patient-centric, but just making a statement does not do the job. How do healthcare providers achieve this?
Healthcare providers have a chance to transform this around by taking advantage of voice AI and the benefits it delivers to consumers. Some healthcare providers are already utilizing conversational AI but it is still in its infancy. Consumers believe that AI can build proficiency and deliver personalized assistance with symptom checking, appointment booking, health monitoring, and cost-saving suggestions.
What is slowing down widespread adoption of voice assistants in healthcare?
In case voice is so incredible, you may be asking why it isn't mainstream as of now in the healthcare industry. The greatest hindrances to voice bot adoption are patient data security challenges.
At present, voice applications in healthcare are in their earliest stages. They aren't pretty much as cutting edge as in other industries.
Due to compliance and regulations, healthcare providers, for a seriously long time, have been kept down from further advancement. Regardless, there are as yet many difficulties to defeat before voice assistants turn out to be generally embraced in the business.
The greatest test is security. As voice assistants need to deal with patient data, they should consent to the Health Insurance Portability and Accountability (HIPAA) law.
The biggest challenge is privacy.
Organizations can profit significantly from voice assistants in healthcare. Besides automated workflows, voice innovation can assist in improving patient experience, cutting down physician burden, and increasing patient volumes.
Top Applications of Voice-Based Use Cases in Healthcare
Voice innovation in healthcare has opened entryways for both patients and clinicians.
Consumers utilize voice assistants to check on symptoms, available treatment options, health-related information, locate nearby clinics or hospitals, and nutrition information.
Let's take a look at consumer-preferred voice assistant use cases in healthcare in the US:
Voice bots aren't utilized as much for purchasing prescriptions or booking clinical visits. As transactions become more secure for customers, all things considered, they'll be utilized all the more regularly.
About 52% of grown-ups in the US are wanting to utilize voice associates for somewhere around one medical services-related need. This indicates that customers are ready to utilize voice assistants when they will be easily available in the market.
Conclusion
Voice-based consumer searches have been one of the prime use cases of voice assistants in healthcare and it is expected to double up in the coming years. Healthcare providers who will be proactive in embracing voice assistants will be able to provide patients with a seamless, consistent experience in the near future. As the need for contactless innovation develops post-pandemic, voice healthcare will play a key role in patient acquisition strategies amid the new normal.