AI Voice Assistants in Healthcare: Top Use Cases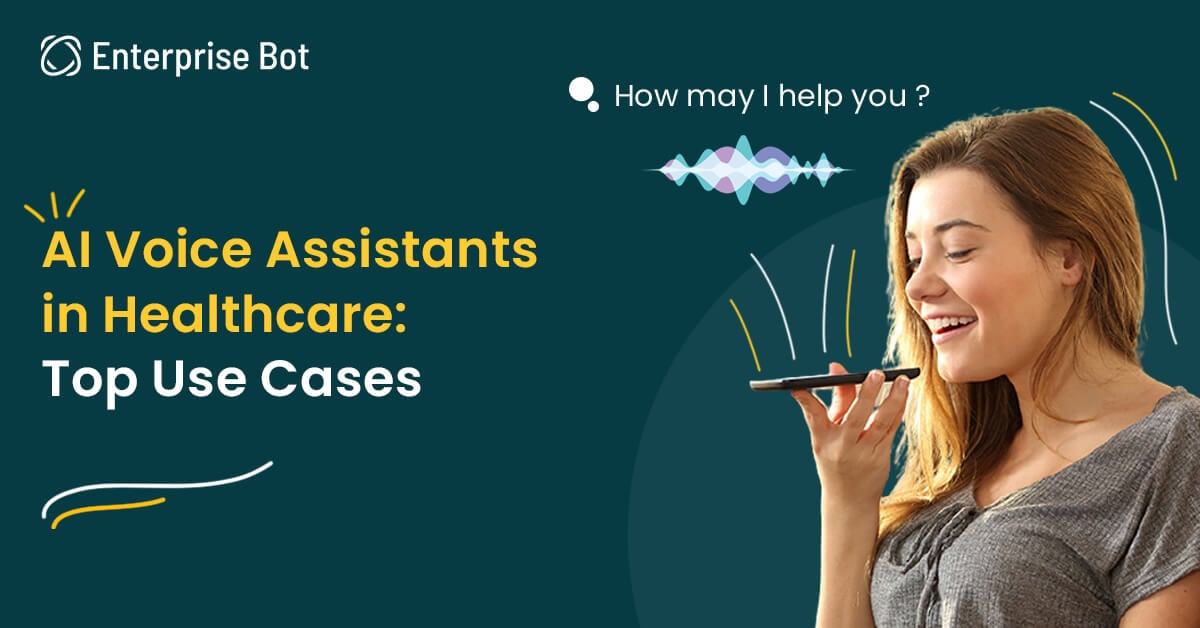 AI Virtual Assistants like Amazon Alexa, Microsoft Cortana and Google Home are steadily making their way into healthcare. Powered with the advanced algorithm of machine learning and natural language processing, they help in transforming day-to-day operations for doctors, other staff and patients, and ensure compliance.
When voice innovation started to arise in 2011 with Siri, nobody might have anticipated that this curiosity would turn into a driver for tech advancement across industries. Presently, after 10 years, it's assessed that each 1 of every 4 U.S. grown-ups own a smart speaker and eMarketer conjectures that almost 92.3% of users will utilize voice assistants by 2023.
Brands, for example, Amazon, and Google are proceeding to fuel this pattern as they vie for a piece of the pie. Voice interfaces are progressing at a dramatic rate in all ventures, with prominent development in healthcare, as organizations are dashing to deliver their own voice innovation combinations to stay up with buyer interest. One such solution is Enterprise Bot's HealthAI which not only helps healthcare providers improve the doctor-patient relationship, but also aids them to push boundaries of what's possible.
As the study reveals, more than half of U.S. consumers have said that they would use the voice assistant on their smartphone for their healthcare related activities. This figure is followed by personal computers (19.4%) and smart speakers (17.6%) in consumers' preference list.
Let's take a look at the multi-tiered use cases of voice assistants in healthcare:
Improving Patient Experience
Intelligent Healthcare Voice Assistant: Alexa and Google Home assist patients in getting real-time answers to their queries concerning health symptoms, different illnesses, possible medicine side effects, accessible treatment options, drug availability, and therapeutic tips.
Real-time Medication Reminders: While 66% of Americans take some kind of prescription drugs, around half of those consumers don't take drugs as advised. Medication non-adherence is a massive healthcare crisis in the US today causing 125,000 preventable deaths, 25% of all hospitalizations and 50% treatment failures. With Alexa skills on their smartphones, speakers etc., patients, especially older adults, can set timely reminders for taking medications on time without any miss.
Virtual Care: By integrating AI-powered voice assistants into healthcare systems, patients would have the option to book an appointment with their preferred doctor just by conversing with their digital assistant. They will also get the option to upload their reports consistently if their medical issue requires it, without visiting the clinic or filling complex forms. It will help patients get accurate and reliable advice from doctors, and reduce the chances of readmission.
Transforming Clinician Experience
Today physician burnout is one of the most pressing issues in the healthcare industry. Clinicians need to invest plenty of time to document patient interactions through EHR. Here, EHR is the Electronic Healthcare Records System utilizing which specialists can check records of the patients at whatever point required.
Additionally, EHR is perhaps the most well-known use of AI in Healthcare. Be that as it may, on occasion, specialists get depleted completing the entire interaction utilizing the EHR.
To fix this issue, specialists can take help of voice assistants to record patient interactions in under a moment by transcribing all the details obtained through dictation. Using the advanced speech-to-text algorithm of voice assistants, healthcare providers can easily transcribe doctors' notes in real time with highest accuracy unlike traditional medical transcriptionists.
Moreover, utilizing speech recognition healthcare providers can eliminate common issues such as indecipherable handwriting and inadequate documentation of clinical procedures.
Another significant job that voice assistants can play in operation theatres or even in any doctor's room is recording clinical notes. This assists specialists with saving a ton of time on prescriptions or documenting the entire clinical history of any patient with chronic conditions.
Additionally, voice bots can consistently pose important inquiries to patients to screen their behavior and health.
On the opposite side, voice associates in medical care can generate invoice codes and other essential data to specialists to perform their job effectively.
Conclusion
Voice offers efficiencies that decrease exertion and improve care. With AI-powered voice assistants, you can automate routine tasks, eliminate data stream hindrances, and straightforwardly diminish the time and exertion expected of care groups. Patient information shows in clinical records and dissimilar datasets, yet is infrequently caught throughout the patient journey. Through an omnichannel voice insight, you can easily get access to AI-powered patient insights. These insights can further be leveraged to create additional value for both the provider and the patient, be it symptom checking or delivering quality care or improving outcomes.
If you would like to see how you can power your Healthcare unit with cutting edge AI or read more about Voice Bot then Connect With Us.